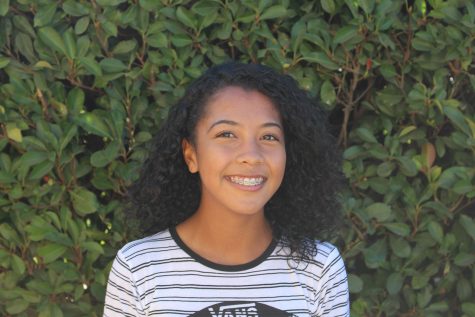 Driven and passionate, sophomore Jada Hallman is the Copy Co-Editor of The Zephyr and is looking forward to an exciting and eventful year. This is her second year as a part of the Zephyr staff and she aims to be a part of the newspaper for her remaining years at West. As she assumes her latest promotion to a leadership role, she is determined to execute her job with poise.
Hallman lives in Tracy with her mother, father and two younger sisters. In her free time, she enjoys reading, practicing her writing, binge watching her latest favorite shows on Netflix and, astonishingly, studying. She prioritizes her education and aims to excel in all of her classes. Taking several honors and AP classes, Hallman devotes a lot of her time to schoolwork and loves seeing her hard work pay off.
Hallman's favorite classes are journalism and pre-calculus honors. In journalism, she feels that this year, her contribution to the team will help lead the paper to a successful future. In her math class, she appreciates the fast pace of the course and how Mrs. James, her teacher,
distance track coach and cross country coach, makes the learning experience fun and engaging for the students. Hallman really admires her mother, for she inspires her and encourages her to always strive for greatness. Hallman also really admires Mrs. James; without James's constant encouragement and strong faith in her both on the track and in the classroom, Hallman feels she would never have achieved some of the athletic and academic goals she's reached.
Although Hallman is still not absolutely certain what she wants to pursue in college, she is certain that her passion is English Language Arts. But as she expands her aspirations for her future, Hallman feels inclinations towards social work and mass communications. Outside of school, Hallman's goal is to "do small things with great love." And with her work ethic, bright smile and compassionate heart, she will never fall short in her endeavors.
Jada Hallman, Copy Co-Editor
Apr 25, 2017

Run, swim, spike, tackle: summer sports!

(Story)

Apr 25, 2017

YA page-turners for your summer

(Story)

Mar 05, 2017

Smart savings for your prom

(Story)

Mar 05, 2017

The power of diversity on the big screen

(Story)

Jan 30, 2017

West vs. Tracy: Supporting our girls at Slam Jam

(Story)

Nov 29, 2016

Balancing smart and sweet: staying fit during the holiday season

(Story)

Oct 19, 2016

3 seats, 5 candidates: TUSD board member candidates vie over leadership roles in the district in upcoming election

(Story)

Oct 18, 2016

Pumped for Homecoming: Night Rally Success

(Story)

Sep 08, 2016

Wish you were here: Costa Rica trip opportunity for students

(Story)

Sep 01, 2016

JV football: training for touchdowns and triumph

(Story)

May 05, 2016

West High's 2016 valedictorian and salutatorians

(Story)

Apr 05, 2016

Human trafficking: the importance of awareness

(Story/Photo)

Mar 23, 2016

Honoring Harper Lee and her literary legacy

(Story)

Feb 10, 2016

Female athlete of the issue

(Story/Photo)

Dec 15, 2015

Learning to love yourself (in a not-so-loving atmosphere)

(Story)

Dec 15, 2015

New services available to West High students

(Photo)

Oct 22, 2015

New plans blossom for class garden

(Story)