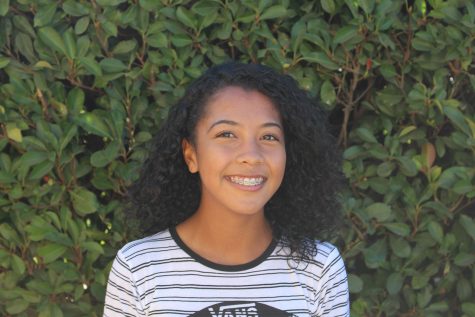 Driven and passionate, junior Jada Hallman is the Editor-in-Chief of The Zephyr and is looking forward to an exciting and eventful year. This is her third year as a part of the Zephyr staff and she aims to be a part of the newspaper for her remaining years at West. In previous years, Hallman has advanced from a staff reporter to copy editor, and she plans to use her experience to assist her in leading the publication this year. As she assumes her latest promotion to a new leadership role, she is determined to execute her job with poise.
Hallman lives in Tracy with her mother, father and two younger sisters. In her free time, she enjoys reading, practicing her writing, binge watching her latest favorite shows on Netflix and, astonishingly, studying. She prioritizes her education and aims to excel in all of her classes. Taking several AP classes, Hallman devotes a lot of her time to schoolwork and loves seeing her hard work pay off.
Hallman's favorite classes are English and Calculus AB
. She enjoys the welcoming and engaging atmosphere Ms. Duff creates for her students and Hallman cannot be more excited to learning language arts from such an incredible teacher. Mr. James, her math teacher this year, brings a lighthearted humor to Hallman's day that Hallman really appreciates. She really admires Mrs. James; without James's constant encouragement and strong faith in her on the cross country team, Hallman feels she would never have achieved some of the athletic goals she's reached.
As Hallman continues to broaden her horizons in whatever field she wants to pursue in college, Hallman feels drawn toward Business Administration, Management, and Leadership. She hopes that her new position as Editor-in-Chief of the newspaper this year will equip her with the skills she will need to continue down this path of leadership and professionalism. And with her work ethic, bright smile and compassionate heart, she will never fall short in her endeavors.
Jada Hallman, Editor-in-Chief
Apr 26, 2018

Hello summer vacation: what to do to have an unforgettable summer

(Story)

Feb 28, 2018

New Habit Burger and Mod Pizza coming to Tracy

(Story)

Feb 28, 2018

Spring into a sport this season

(Story)

Jan 09, 2018

Printing the future

(Story)

Nov 01, 2017

Do you feel safe at West?

(Story)

Sep 08, 2017

The most important meal of the day, made easy

(Story)

Sep 08, 2017

Why are the P-building restrooms still closed?

(Story)

Sep 08, 2017

Constructing her future: senior Hannah James's summer adventures in Chicago

(Story)

Apr 25, 2017

Run, swim, spike, tackle: summer sports!

(Story)

Apr 25, 2017

YA page-turners for your summer

(Story)

Mar 05, 2017

Smart savings for your prom

(Story)

Mar 05, 2017

The power of diversity on the big screen

(Story)

Jan 30, 2017

West vs. Tracy: Supporting our girls at Slam Jam

(Story)

Nov 29, 2016

Balancing smart and sweet: staying fit during the holiday season

(Story)

Oct 19, 2016

3 seats, 5 candidates: TUSD board member candidates vie over leadership roles in the district in upcoming election

(Story)

Oct 18, 2016

Pumped for Homecoming: Night Rally Success

(Story)

Sep 08, 2016

Wish you were here: Costa Rica trip opportunity for students

(Story)

Sep 01, 2016

JV football: training for touchdowns and triumph

(Story)

May 05, 2016

West High's 2016 valedictorian and salutatorians

(Story)

Apr 05, 2016

Human trafficking: the importance of awareness

(Story/Media)

Mar 23, 2016

Honoring Harper Lee and her literary legacy

(Story)

Feb 10, 2016

Female athlete of the issue

(Story/Media)

Dec 15, 2015

Learning to love yourself (in a not-so-loving atmosphere)

(Story)

Dec 15, 2015

New services available to West High students

(Media)

Oct 22, 2015

New plans blossom for class garden

(Story)