Female Athlete of the issue: Hailey Burton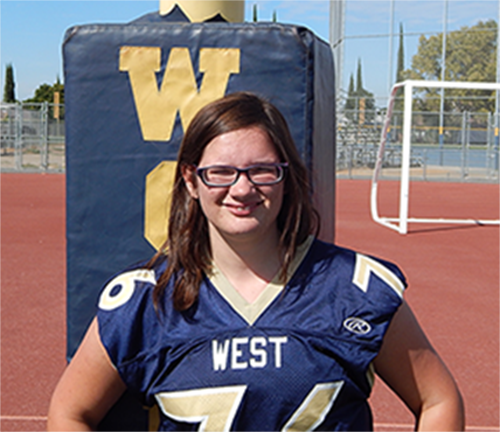 Hailey Burton is part of the freshmen football team for West High. When she was a kid she had always wanted to play football for the kids' league but never had the chance to play. Now she has finally joined the team, even though she is a girl. She hopes to show all the other girls that football isn't just a guys' sport.
Full name: Hailey Burton
Grade: 9
Birth Date: August 17, 2001
Height: 5'7
Hair: Brown
Eyes: Hazel
Favorite color: Red
Sports played: Softball and Basketball
Years played: Softball, 2 years; Basketball,8 years; Football, First year
Plans after graduation: Go to Columbia University in New York
Career goals: To get a degree in Criminal Justice
Favorite thing about playing: Being able to play in front of her family
Least favorite thing about playing: Not much game time, despite the effort she gives in practice
Most memorable moment that occurred while playing: When she knocked a guy that was twice her size
How has playing a sport helped you I everyday life? It makes her feel stronger
Who inspires you to play?: Her mom and older brother inspire her the most.
Favorite teacher and why: She likes all of her teachers, but if she had to pick it would have to be Mr. Russell and Mrs. Welk