Female athlete of the issue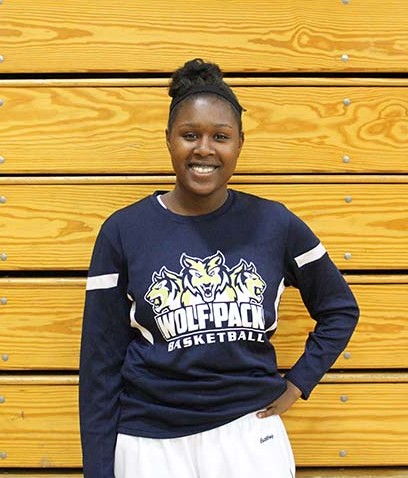 Setting goals for yourself is a normal part of life. It's how we advance to a higher position of success. For Kamarieana "Mari" Edwards, setting an objective to accomplish all of her academic goals would lead to playing for West High's girls varsity basketball team.
Now a junior, Edwards has played basketball since the fourth grade. Although she was forced to participate by her parents, she has developed a passion for the sport and enjoys the games.
Throughout the years, Edwards's mom has been her biggest supporter, continually encouraging her to pursue her love for basketball. Ever since Edwards began, she's aspired to achieve her athletic goals, despite the hardships. "She wanted something and made sure that it happened even knowing that it wasn't a certainty," said Ron Lovell, head coach of the girls varsity basketball team.
At the start of the season Edwards was not allowed to participate in the games, due to academic complications. However, through persistence, determination and hard work, Edwards brought her grades up and earned the right to play in the games. "I didn't make grades… but I got them up so I can play the rest of the season," said Edwards.
"She always showed up to practice ready to work and learn as if she was playing in the next game. Her effort has never been questioned by the coaches," said Lovell. Edwards displayed a diligent attitude the entire season, whether she was on the court or not.
When asked about what she has learned from her basketball experience, Edwards said, "Don't give up. Keep trying even if there's obstacles. Just keep trying." Though she had a rough start, Edwards has adamantly pushed to reach her goals, both in the classroom and on the court.