Read Across America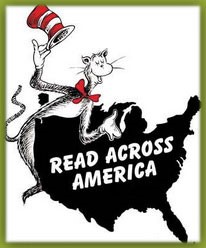 National Education Association's (NEA) Read Across America is an annual reading program that encourages and motivates students of all ages to read. Begun in 1997, 2016 marks the nineteenth anniversary of the start of this national reading awareness program. The NEA's purpose is to make reading a priority by creating lifelong successful readers. Research studies have shown children that are motivated spend more time reading, which contributes to better achievement in school. The day is celebrated on March 2, the birthday of the cherished children's author Dr. Seuss. On this day, younger students have activities to celebrate and showcase the excitement of reading.
Theodor Seuss Geisel, better known to the world as Dr. Seuss, had an impact on readers of all ages that is still felt today. Dr. Seuss wrote and illustrated forty-four children's books. These classic books are including well-known favorites such as The Cat in the Hat; Green Eggs and Ham; Oh, the Places You'll Go; Fox in Socks and How the Grinch Stole Christmas. His books have been translated into more than fifteen languages with over 200 million copies that found their way into homes and hearts worldwide. Although he wrote books, his works provided the source for eleven children's television specials, a Broadway musical and feature-length motion pictures. Dr. Seuss's honors also included two academy awards, two Emmy awards, a Peabody award and the Pulitzer Prize. With such an amazing career, it is fitting that the National Education Association was inspired to honor Dr. Seuss by using his birthday to mark the observance of the reading awareness program.
Read Across America also grants resources to communities to push students to read all year long. The NEA will be providing West High with approximately thirty thousand dollars to be used for our very own library. Librarian Susan Perry believes, "Anytime you get students to read more books that they enjoy to read themselves, it makes them a better reader."
Additionally, there are 3.2 million elementary and secondary teachers, higher education faculty, school administrators, education support professionals, retired educators and students preparing to become teachers who make up the NEA membership. Also, there are over fifty nonprofit national organizations and associations which give their support across America.
No matter what your field of interest, when you are searching, the library is bound to have a book for you. Next time you are interested in a new book make sure you stop by the West High library and enjoy your reading!