New ROTC class is taking flight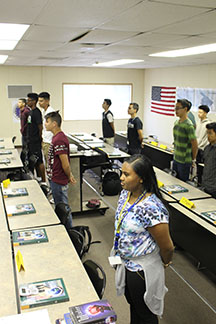 Some people may want to be a part of a military branch when they leave high school. While they don't have access to military related subjects their underclassmen years, they can start off right with our newly added junior Reserved Officer Training Corps (ROTC) course this year.
Run by Major Wilson, this class offers the chance to those who want to be an air pilot, or join the military in general. At the junior level, the current goal for the students is to make them a good citizen. According to Major Wilson, less than 5% of students join the military, and ROTC courses give them greater appreciation for it. "Since there are few who want to join the military, [this class] gives them the chance to 'try before they buy.' We have leadership and cadet run programs, where they run before and after school stuff." In the class, Major Wilson teaches weekly leadership skills, has uniform inspections and drills, posture training and physical drills—knowledge much needed for the military.
So why did this class come this year and not last or the previous years? In response, Major Wilson said that there was a long process and a lot of coordination involved. "This lengthy process can take 2-3 years. Some schools are still waiting for an ROTC class because it's considered low priority…each state is authorized 91 classes, and our state has about 61. Since we still had slots open, we were granted the ROTC class for this year."
Lastly, why should incoming juniors join? Major Wilson said, "Ninety-nine percent of people who complete this course say it's worth it and it taught them lifetime skills. Also, you would want to associate with something your junior year. This is just another group that you can associate yourself with." For those who are considering going into the military, taking the junior ROTC class will definitely grant you skills for the long run.