Coming soon to a parking lot near you
This coming January, West High will begin the installment of solar panels. Dr. Casey Goodall, Associate superintendent of Business Services said, "early January…but we don't have any specific start date yet, because the company is still working on the phasing plans." The district chose the company Onyx, a small local company that comes from this area, but it also is part of a larger company called Blackstone. When asked where the money is coming from, Goodall said, "A power purchase agreement…the company installing them will own the solar panels, so they pay for all of the construction and retain ownership of the panels and we buy our power from them at a guaranteed rate lower than our PG&E bill…we don't pay an upfront cost." The company then gets paid back over the lifespan of the panels and with the utility bills.
"The panels will power up to 95% of the school," said Goodall. "This percent was done on purpose because if you generate more than 100%, you don't get reimbursed." Within a year, the school will be saving about 150,000 dollars a year, and if that's a shock, in twenty years about 7 million dollars will be saved.
West High is not the only school getting solar panels: Kimball and Williams will join in the action. Goodall says, "The reason for this is that you need enough square footage to create enough energy and make enough savings for the power purchase agreement." Monte Vista Middle School and Art Freiler School were included in this plan but taken out due to disruption to traffic and little room. The entire West High parking lot (except a part of where the pool is), the bus parking lot and in front of the district office will be covered with solar panel hangers.
Hearing of the news, senior Nathan Concepcion, says "This makes the school look great and shows that West High is for the environment and in the long run will save money for the school's arts programs." However, Concepcion was worried about the money going to the solar panels instead of the arts but then heard of the solar panels providing shade. He stated, "My car doesn't have an A/C, so it will be great especially since I have leather seats. It'll help keep them cool." Overall, the solar panels will be exceptionally beneficial to the West High campus.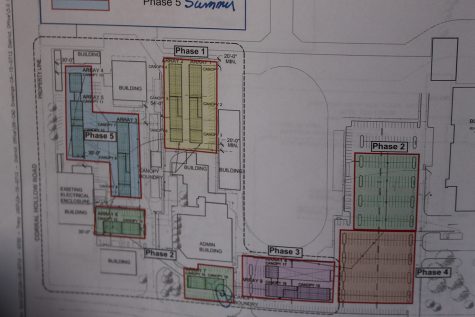 Blueprint of plans for West High.