Music Review: Bobby Tarantino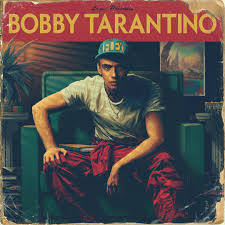 Wanting to give his fans something while he was away on tour, Logic released the mixtape Bobby Tarantino on July 1, seemingly out of nowhere. It was silently released on Apple Music and was made available for free on Spotify and SoundCloud, but it can also be bought on iTunes and Google Play Store.
The mixtape starts off with a backward message titled "Illuminatro." When played in reverse it states that the songs here shouldn't be taken seriously and it's all for fun. Right after comes "Flexicution" where Logic raps about his recent success with his second album, The Incredible True Story. Then the mixtape transitions to "The Jam." Here, Logic promotes his next album and compares it to Beyoncé's Lemonade and Kanye's Graduation. However, the mood shifts as the mixtape reaches "Slave II" as he raps about how he's a slave to the hip hop industry. Right after, Logic adds "A Word from Our Sponsor" which is a funny skit in between the songs. The mixtape moves on with some of my personal favorites, "Wrist" featuring Pusha T, "Super Mario World" and "Studio Ambience at Night: Malibu." He continues with the songs "44 Bars," which is about Logic's determination to keep moving forward with his passion and his fans and "Slave." Logic ends with the song "Deeper than Money," where he says that people have the perception that money makes them happy when in reality it doesn't, and he tells the listener what makes him happy.
Overall, Bobby Tarantino is just proof that Logic does not disappoint. This mixtape shows a different and fun side of Logic, that we do not usually see. With something as great as Bobby Tarantino and his other works, it's certain that Logic's third album won't let us down.