Beauty, beauty, beauty rockin' everywhere!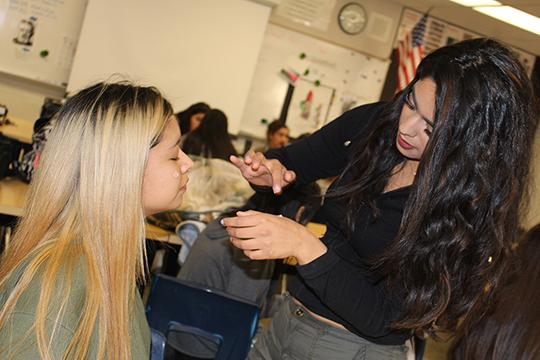 Beauty comes in many styles for many different people. Some may express themselves through clothing. Others would use jewelry. For the girls that choose to express themselves through makeup, however, West High now offers the first ever Make Up Artists (MUA) Club.
The purpose of MUA is to boost self-esteem, learn different techniques and tools of the trade, gain connections and network with people in the industry and to socialize with others about the common interest of beauty. Run by Junior President Deja Gonzales and Senior Vice President Annie Nguyen, they want to teach future club members that girls don't need to put on makeup for a guy, but rather for themselves. "Since makeup is a million dollar industry, we think this club will be a good starting point," said Nguyen. They also want club members to talk to others they haven't spoken to before. Both Gonzales and Nguyen want to do makeup as a part time job, and Gonzales hopes to have it work with her future career as a psychologist.
The advisor of the club, Ms. Susie Kim, wanted to start the club right away, as she believed it would be the productive way to go about it. "We want to teach girls how to apply makeup, this way we can save them money and failures. I'm doing what I want to do, which is teaching art, but through the face." According to Kim, the real world skills a student can obtain by joining are knowing proper skin and makeup care, differentiating between real and fake, toxic products and knowing how to apply makeup onto someone else's face. "Because West doesn't have any classes for a beauty related industry, we want to teach the girls to have better communication with the industry in general. They can also build a portfolio for themselves." Kim also said that they're planning on offering their services on special occasions like Prom or Winter Ball, so students don't have to pay money to get their makeup done.
All members will be the makeup artists. Everyone will be trained with demos and tutorials, with the goal being to branch outward by doing volunteer work for events. Eventually, they'll be models and makeup artists, helping from the school to the communities. Senior Shwathi Gounder hopes to gain more experiences on how to do eye shadow and different techniques of applying makeup that she doesn't know. "I believe in the future, I'll try to get my cosmetology license and on a side job, I'll try to do makeup for other people." She also believes in the creativity that other people can put in with makeup such as eye looks, highlights and different beauty trends that occur over the years. "I think it's interesting and it makes me intrigued by it."
For those who wish to join MUA, you can visit room G2 after school on Wednesdays or Fridays. "You may return for a free make-over as many times as you like," says Kim.