Mr. Rio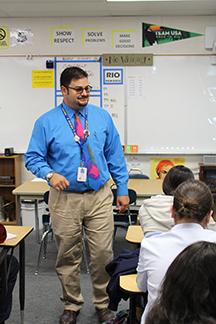 West High is filled with astounding teachers who go above and beyond to make the learning experience at our school tremendous. Mr. Jared Rio, our World History, AP Government and Economics teacher, happens to be one of the many who we all love and adore.
Rio had joined the Wolf Pack well before he became a teacher. He too spent his high school years roaming the very halls of West High and graduated with the class of 2000.
Rio, who once used to be a laborer for Del Valle Regional Park and at one point thought he wanted to be a pediatrician, was actually inspired by his own 10th grade World History teacher to venture down the teaching path. If he had not been a History teacher, Rio stated he would have loved to be an astronaut or a marine mammalogist who worked with whales.
The aspect of West High that Rio loves the most is the diversity that is present in our grounds. When asked about his teaching style, Rio said he tries to be interactive and have the students be hands-on in the classroom.
When it comes to determining the best part of the job, Rio was quick to say, "These wonderful students…there is not one day that is the same, definitely not a carbon copy job."
One of Rio's greatest accomplishments in his career is his experience being one of the twenty-two teachers in 2011 who worked at the United States Holocaust Memorial Museum in Washington D.C. His other significant achievement is holding a position as a writing consultant at the California State University of Stanislaus. On his time off, Rio fancies hiking and swimming, but he is also a family man who cherishes his time with his four kids.
We have a great set of teachers leading our way and inspiring us to strive for the stars. Sometimes the future makes us tremble, but Rio advises to "find what makes you happy and go after it, whatever it might be, follow your passion."