Varsity basketball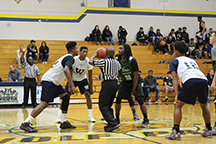 The varsity boys basketball team is back and ready to show us they are number one in the business. Their first scrimmage was against Grace Davis from Modesto. It was the boys' first challenge, and out of six quarters they won five and lost one. New coach Matthew Garza made sure the team was playing their best and it showed at the end when they won.
The boys' first game of the season was against Johansen High School from Modesto. It was a home game and with an impressive win the team won 86-47. They played very well overall and showed how good they are.
Last year's coach, Derek Sprecksel stepped down due to the birth of his twins and Coach Garza was called to the spot and so far has gotten appreciation from the team. Junior Kamldeep Singh who has been playing basketball for 5 years is really thankful for his new coach. When asked, how do you feel about your new coach, Singh said, "Our coach is really straightforward and pushes us to our limits, and he has high expectations for us this season, which I like".
Singh is 6'1" and plays many positions but mostly shooting guard or small forward. His favorite things about basketball are the competitive of the sport, teamwork and the family bond the team makes. When asked who or what motivates you to play, Singh said, "My parents really support me; I just love the game of basketball." Singh believes his team has what it takes to win league and make playoffs. "Our team is really coordinated, and we have good chemistry, if we work together I believe we can make it to semifinals."
The second game of the season was against rival Tracy High and the team won 84-74. It was an intense, close game but they managed to win. After the game Singh said, "Feels great to beat Tracy High; last year we lost against them when I played for JV."
Make sure you come support the team on future games!