Cooking up cultures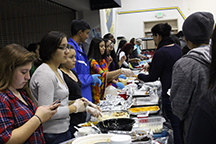 On October 18 the 7th annual International Feast took place in the cafeteria at West High School. Clubs such as East Asian Association (EAA), Asian Pacific Islanders (API), Black Student Union (BSU), Movimiento Estudiantil Chicano de Aztlán (MEChA) and Spanish Club came to the feast to share their unique cultures.
Beautiful performances from BSU, MEChA and API allowed everyone at the feast to get a sense of their cultures. The members of BSU moved to the beat in perfect unison creating a wonderful performance, MEChA mesmerized the audience with their traditional dances and API caught everyone's attention with their captivating hip-hop routine.
Veronica Martinez a member of MEChA, said that her favorite part of participating in this feast is, "dancing and sharing our culture." She thinks this is an important event to have because "everybody joins in and brings their own food and hangs out together." Martinez believes this event helps to bring many different cultures together.
President of EAA Arshvir Sodhi agrees that this event brings cultures together. "I get to meet new people, showing our culture, spreading our culture. It's a very nice experience," Sodhi said when asked what her favorite part of the feast is. According to Sodhi, this event is important to have, "because I am trying to live my high school experience and this is a great one." Overall the international feast was a success with traditional foods and dances that brought everyone together.