Holiday recipes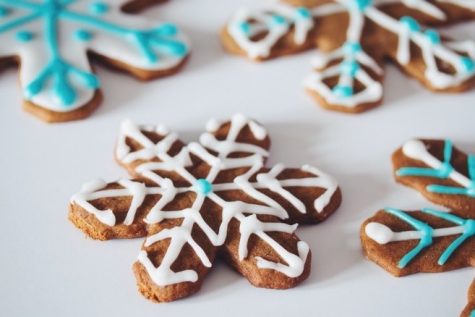 Lauren Toyota
Vegan gingerbread snowflakes
(makes 2-3 dozen cookies)
Ingredients:
2 1/4 cup all-purpose flour
1 tsp baking soda
3 tsp ground ginger
2 tsp cinnamon
1 tsp ground cloves
1/4 tsp fine sea salt
1/2 cup vegan butter or margarine (room temp)
1 cup packed light brown sugar
1/4 cup unsulphoured molasses
1/4 cup non-dairy milk (room temp)
1 tsp vanilla extract
1/3 cup all-purpose flour (for rolling the dough)
In a separate bowl beat the vegan butter and brown sugar with a hand mixer until fluffy. Add the non-dairy milk, molasses, and vanilla extract and continuing beating with the mixer until well combined. If your dough seems a bit soft to handle, just portion it out with a spoon or spatula from the bowl onto plastic wrap and form the ball in the plastic wrap, then refrigerate. Lift the cut-out cookies from the counter with a lightly floured spatula/lifter and place them on parchment lined baking sheets. Continue to flour your rolling surface and rolling pin, roll out the excess dough, and cut out more cookies until there is no dough left.
Bake the cookies for 6-8 mins in an oven pre-heated to 350 degrees Fahrenheit. Allow the cookies to cool completely before icing.
Have 1/3 cup of all-purpose flour standing by and flour your rolling surface, rolling pin and cookie cutter well. Cut the big ball of dough in half and work with one half at a time. Keep the other ball wrapped in plastic and in the fridge. Roll out the dough until its approx. 1/8″ thick. Cut out your snowflakes or cookie shapes.
Fold the wet ingredients into the dry ingredients and mix well with a wooden spoon or your hands. Form the dough into a ball and wrap it in plastic wrap. Refrigerate for 1 hour.
Sift the flour with spices, sea salt and baking soda into a large mixing bowl and stir to combine.
Royal piping icing:
2 1/4 cup powdered sugar
3 tbsp warm water.
Transfer the icing into a piping bag or a squeeze bottle with a fine tip at the end and decorate your cookies as desired. If you want to use blue icing as well, take about 1/3 of this icing and add 1-2 drops of blue food coloring and combine well.
You can pipe icing as the outline to your cookies and then "flood" the cookies with more icing.
Combine sugar and water together using a hand mixer or whisk. It should be a stiff but still sort of fluid consistency. It shouldn't drip or spread on the cookies but rather hold its shape in a thin line or dot.
Flood icing:
2 1/4 cup powdered sugar
4-5 tbsp warm water.
Use a small spatula or knife to spread the flood icing around the surface of the cookies that have been outlined. Allow the frosting to dry and harden completely before placing in cookie tins or containers.
After flooding the cookies with this icing, allow it dry about half way through or dry to the touch, so that when you go to pipe more icing in the opposite color on top of that, it doesn't totally melt into the flood icing.
Combine sugar and water together using a hand mixer or whisk. This will be a runnier icing that will flood the surface of your cookies that have been outlined.
http://www.hotforfoodblog.com/recipes/2014/11/6/gingerbread-snowflakes?rq=gingerbread
Christmas cornflake wreaths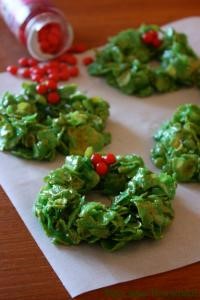 Lauren Allen
(makes 15 wreaths)
Ingredients:
1/2 cup butter
5 heaping cups miniature marshmallows
1 tsp green food coloring
5 1/2 cups corn flakes cereal
Handful of red cinnamon candies
Measure corn flakes into a large bowl.
Melt butter in a large saucepan over low heat. Once melted, add the marshmallows and stir continuously until completely melted. Stir in food coloring.
Pour melted marshmallows into the large bowl with the corn flakes. Stir until well coated.
Lay out a piece of parchment paper on your kitchen counter. Dollop spoonfuls of the cornflake mixture onto the parchment paper. Grease your (clean) hands with butter or cooking spray, or dip them in a little bit of water. Use your fingers to shape each spoonful into an individual wreath. Top each wreath with cinnamon candies.
http://tastesbetterfromscratch.com/2014/10/christmas-cornflake-wreaths.html
Christmas tree cheese and crackers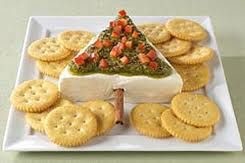 Ingredients:
1 box of Ritz crackers
1 cinnamon stick
¼ cup of diced roma tomatoes
1 lb of cream cheese
3 tbsp of green jalapeño jelly
Place triangular shaped cream cheese on plate and push a cinnamon stick into one rectangular side of the cheese. Spread green jalapeño jelly on top of cream cheese, sprinkled with diced tomatoes. Evenly spread crackers around your "tree" and enjoy!
Green jalapeño jelly:
Author: Cari Schofield
2 jalapeño peppers, seeded and chopped (always wear gloves handling jalapeños or you will regret it!)  If you want to holiday it up you can use one green and one red pepper.
3 medium green peppers, cut into 1 inch pieces
2 pouches (3 oz each) liquid fruit pectin (made by sure-jell, it comes 2 packages in one box, you will use both)
About 6 drops green food coloring (optional, but great for looks especially around Christmas, add some red fabric under the ring and voila, Christmas presents!)
In a blender or food processor, put your jalapeños and half of the bell peppers with ½ a cup white vinegar.  Process until it is pureed, then put into a heavy saucepan with a lid.
Repeat with the remaining peppers and add another ½ cup of vinegar with them.  Put it in the pot with the other mixture and add cayenne, sugar and remaining vinegar.  Stir it all together and bring to a rolling boil stirring constantly.  Quickly stir in pectin and bring to a boil stirring constantly for 1 minute.  It's going to look gross at this time but it won't look like that when you finish, I promise.
Remove from heat and skim off the foam on top.  Add food coloring if you want to. I always do. Carefully ladle hot mixture into half pint jars, leaving ¼ inch head space from the top. Remove air bubbles, wipe rims and attach seals.
Process in a boiling water canner for 10 minutes.
http://americanpreppersnetwork.com/2012/06/moms-jalapeno-jelly.html