BSU hosts 21st annual MLK breakfast
On Monday January 16, the Black Student Union (BSU) from West, Tracy and Kimball collaborated to host a community breakfast at West High's cafeteria in honor of Reverend Dr. Martin Luther King Jr. The walls were decorated with powerful posters of silhouettes of people and the words, "I am somebody." They chose this theme because "he was somebody and we are somebody," said senior Austyn Murphy. At 8:30 am, the BSU presidents Austyn Murphy (WHS), Dariae Willis (THS), Mary Tesfaldet (THS) and Milan Jackson (KHS) introduced themselves and welcomed those who attended the event. The JROTC showed their presentation of colors and juniors Kasondra Mae Moore and Ayanna Murphy sang the Black National Anthem.
Breakfast was served to about thirty tables with an average of six people sitting at each table, followed by entertainment from the jazz band and a dance routine. This was the first year that JROTC and the jazz band attended the event, which was very exciting for the BSU students. Each meal consisted of a waffle, eggs, two slices of bacon, a side of fruits and coffee, juice or water. The entire meal was served and cooked by students from BSU.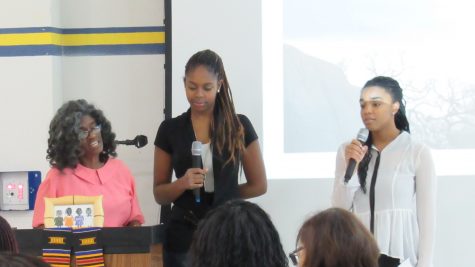 Student speakers Milan Jackson, Austyn Murphy and Anastasia Veal spoke about how BSU has changed their lives and discussed the mark that Dr. King left. In addition, keynote speaker Dr. Kilolo Brodie spoke about the visions we have and that we have to work hard to accomplish them. She also created an activity where everyone wrote their vision on a sticky note and then posted it on a board. A few people shared their visions, which showed a powerful effect that anyone at any age is somebody who can do anything they set their mind to.
Throughout the entire event, a silent auction was held in the back of the cafeteria, where people won items ranging from a Starbucks gift card auctioned for $40, to a kitchen set auctioned for $170. All proceeds went to fund the BSU programs at West, Tracy and Kimball for an opportunity to attend the United Black Students Union of California Annual State Leadership Conference. Here they will experience workshops, networking and instruction on how to bridge the gap from high school to their destination, the world.
Before the breakfast ended, former winner Ms. Harrison presented the MLK Image Award to Kehia Akamein who received much applause. When asked what Akamein thought of as she received her award, she said, "No matter what you can do, even if it's something small, you can always change someone's life." Before leaving, a few people took photos and congratulated Akamein for her selfless work.
It is stated in their brochure that their purpose is to "show our children the importance of dreams. We strive to teach them how to turn their dreams into their reality. But first they must BELIEVE."