Slam Jam Rally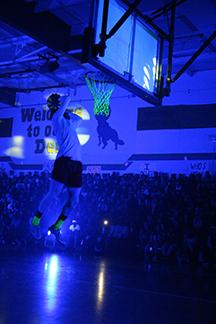 As the West versus Tracy game approached, excitement for the Slam Jam rally grew. In the days leading up to the big game there were a series of spirit days including lazy versus formal, caps versus crowns, greasers versus pink ladies and white out. On January 26, the Slam Jam rally was held to get the students of West High pumped and ready to watch the upcoming games.
The rally started off with the wrestling team, followed by varsity boys and girls soccer teams and last but definitely not least, the varsity boys and girls basketball teams running out. Each team ran out to different music and did their own chant. Later on, there were multicultural dances performed from clubs such as Asian Pacific Islanders (API), Korean Pop (KPOP) and Movimiento Estudiantil Chicano de Aztlán (MEChA). The cheer and dance teams performed mesmerizing routines that captured the audience's attention.
When asked about the importance of these rallies, Mr. Scott Behnam replied, "It's the culture of your school, you need to have these kinds of rallies." Behnam stated that his favorite part of the rally was seeing how happy the kids were. There was a tremendous amount of energy in the crowd throughout the rally. This year's rally was a success in getting students eager to come and support the girls and boys Basketball teams as they played against their rivals.