West High senior signs off to Dartmouth
Senior year is a big year, especially for players who are trying to succeed in playing sports in college. Over the summer, senior James Jones came in contact with various coaches with the chance of playing football for their school. After back and forth emails about the recruiting process and the football season finale, defensive line coach Brookes visited and conversed about the expectations that were to be seen of him at Dartmouth College as well as the lifestyle there. Finally, after their talk, Jones was offered an opportunity to play for the Ivy League school. In January, he took his official visit, traveling 3120 miles to Hanover, New Hampshire.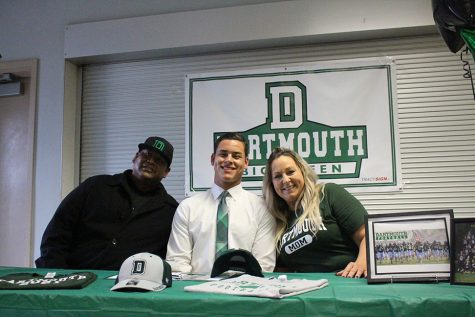 On February 7, Jones signed a letter of intent to Dartmouth College. "It's pretty exciting just knowing that all the hard work I finally put in, getting recognized and that I'll be able to continue playing the sport I love and getting a top level education from a prestigious school like Dartmouth," he said. He was not the only one that was pretty excited. James mother, Tiah Jones, was energized with happiness as she said, "I'm so proud, I'm so happy for him. I mean he has worked so hard…I'm so happy."
Even though he will be far away, he will miss everyone that surrounds him. Jones said, "Obviously, I would like to thank my family, my parents, because of all the values they have instilled in me through my life. They have been there every step of the way whether I was at my highs or my lows. I really appreciate that…my coaches who have taught me throughout the years and then my friends too because they have been there throughout the whole way. I just love spending time with all of them and they have been there for me."
West looks forward to see your success in the future. Congratulations James Jones!