Chipotle restaurant review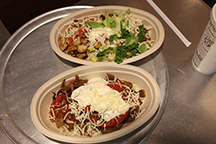 Every day, hungry juniors and seniors are in a hassle to go get their food and come back in time for lunch. It can be very difficult especially when the place you go to is packed and you only have 35 minutes to eat.  Just six minutes away from West High by car, Chipotle Mexican Grill is the perfect place for you and your buddies to go get an "authentic Mexican Grill" meal. Whether you are looking for a tasty burrito, crispy or soft tacos or even a burrito bowl, Chipotle is the perfect place for you!
Chipotle is located on Naglee Road right next to Panera Bread and El Pollo Loco. Chipotle offers a variety of tasty meats such as chicken, steak, carnitas, barbacoa, chorizo and sofritas at all different prices ranging from $6.70 to $7.70. When you order your dish, the employer lets you pick whatever toppings you want and you get to see what they are preparing right in front of you!
Chipotle opened in January here in Tracy. It's the first ever Chipotle here, so Tracy residents were eager to try it out as the closest one was in Stockton and Manteca. So far, Chipotle seems to be successful as they have rather great reviews on Yelp.
I had to go try it out myself, so after a long day of riding around town, my friend and I decided to go to Chipotle for the first time. It was a Saturday around 8 pm and there were a few customers enjoying their meals. We only had to wait in line for 3 minutes. I decided to order a burrito bowl.
For my bowl, I got steak for my meat and then I added brown rice, fajita veggies (which were delicious), cheese and I topped it off with Tomatillo red chili salsa and sour cream.  I also ordered a small drink. The total came out to $10 which isn't that bad.
The food was delicious. My steak was a little dry, but it wasn't that bad. The veggie fajitas were really tasty and I recommend you add them to your meal. Overall I enjoyed it and will definitely be going back to Chipotle. I would recommend you and your buddies to go there for off-campus as it is very fast and you will be back in no time!