All about that Boba!
Are you looking for a cool hang out with your friends? Or a quick spot to get a cool refreshing drink and a light snack? T4, Quickly and POP may be just the spots for you and a popular menu item they all share is milk tea. Milk tea is a Taiwanese tea-based drink that contains mixed/shaken fruit or milk with chewy tapioca balls, also called boba, or fruit jelly that can be added.
Walking into Quickly I felt a friendly inviting feeling and saw a nice lounge area to sit and mingle with my friends. Customer service was very friendly and super attentive and allowed me to sample some tea. With a menu of about 222 items (including drinks and food) and a snack area to buy chips, I had no idea what to get. The employee recommended a smooth drink called Jasmine Milk Green tea. The prices were very cheap, allowing me to buy and try items without breaking the bank. Overall I would give my experience at Quickly a 4 out of 5 paws.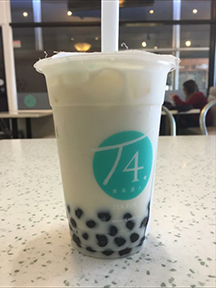 T4 was a much different experience with the environment giving a cold-winter vibe. Games and visible outlets for computers reminded me of a hangout place. The customer service was great, and although they do not allow samples of drinks, they did allow me to sample the Boba. Despite all of the delicious drinks, the menu was not as big as Quickly. However, when I tried the Jasmine Milk Green they allow you to choose the amount of sweetness and ice in the drink. I give this experience an 3 out of 5 paws.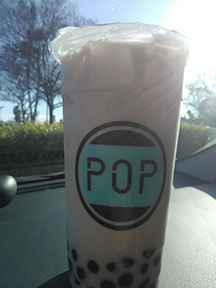 POP, a new cafe in town, is still building its reputation. Even though it's a small cafe and sadly has nowhere to sit indoors, the staff was extremely friendly, helpful and informative. The menu itself is small but offers many different combinations because of their customizable drinks. And of course it was another difficult choice to pick a drink so the staff recommended samples of drinks. At POP, I had once again chosen the Jasmine Milk Green. Comparing to all of the drinks I had, I most enjoyed POP's green tea because it was a silky, sweet experience. The store overall reminds me of a mom and pop shop that offers a frequent buyer program. Along with the drink, I purchased a delicious piece of a cinnamon bread from a separate store just inches away. I would give my experience at POP a 5 out of 5 paws.