Going the extra mile for the distance team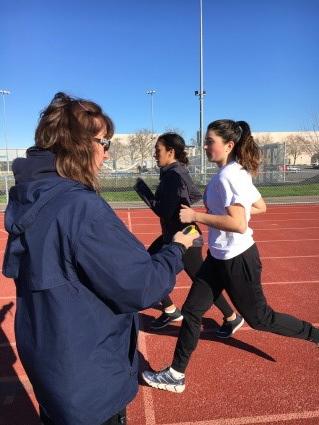 With track season in full swing, we look to the talented athletes that bring glory to West High's name. Our track team is composed of different parts, including sprinting, pole-vaulting, distance, throwing and jumping. Every year we can expect new talent and the sculpting of skills. This year, one person in particular is shaking things up. Most of us know her as a math teacher but to her runners she is called Coach.
Theresa James has been a distance coach since 1999, dedicating much time to guiding and inspiring runners in the hopes of them achieving their full potential. The distance team has a mix of people with varying athletic abilities, and this year Coach James has broken up the team into two sections: the mile/two-milers and the 800/milers. "Their workouts are different three days a week and the other two days they are together, doing recovery runs." She stated that she has been working on getting specific race-oriented workouts for those who shine in the 800 meter race.
Coach James has runners who are specialized for certain race events. For example, some people are naturally talented at giving their all in two laps on the track, while others can keep a steady pace for eight laps. Whichever way, Coach James' approach is likely to yield fruitful results for the distance team.
Sophomore Paul Garin is now in his second year of running distance and when asked about his stance on the new structure, he stated that he is not very fond of the heavy presence of recovery runs. "I prefer a lot more of the speed workouts and less of the long runs," stated Garin. Nevertheless, he recognized that the workouts are better and he'll get more out of them in the long run, no pun intended.
As someone who has been running on the team for three years, senior Kassandra Gomez acknowledged the benefits of this year's changes. "I think the new structure is [producing] lots of great results. I like how it is shaped for every individual runner and how it lays out everything in front of you." In prior years, runners would show up to practice having a faint idea of what kind of practice would occur that day, whether it is a speed or recovery day. Gomez enjoys the fact that runners can "see exactly where [they] need to improve."
We can look forward to the distance team accomplishing much and contributing to the success of the track team as a whole. Sometimes all you need is a change of pace.