All District Music Festival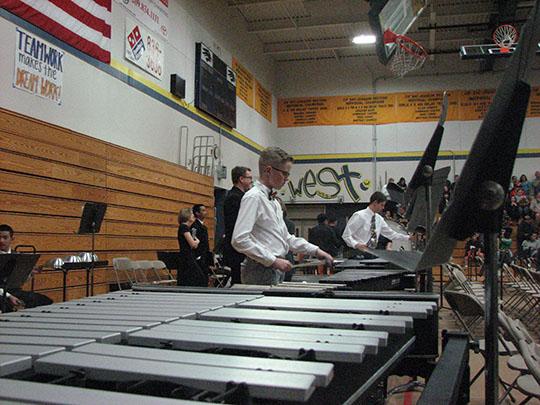 Hang on for a minute...we're trying to find some more stories you might like.
On Thursday evening March 9, West High hosted the 19th annual All District Music Festival in the gym. The room held an astonishing 600 students ranging from sixth graders to seniors. Students throughout the district performed, representing Art Freiler, George Kelly, Monte Vista, Williams, North, Kimball, Tracy and West. Band, orchestra and choir alike all rose to the occasion, taking the opportunity to show off their skills, and they did not disappoint.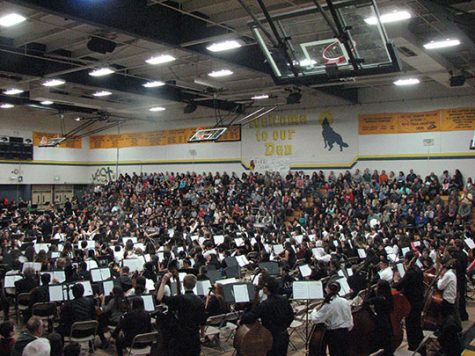 The night started out with a beautiful performance of The Star Spangled Banner, followed with a welcoming speech by Tracy Unified School District superintendent Dr. Brian R. Stephens. After that, the students eagerly dove into their first of ten pieces. Some of the pieces were familiar such as the works of Beethoven, while others were new and unheard of, for example Randy McMillan's original composition Battle in the Rainforest, performed for the first time in its entirety that very night. The latter was a crowd favorite, getting the crowd excited and receiving large praise following the event.
Conductors for the night consisted of Mr. David Heredia, Ms. Celia Rosenblum-Stime, Ms. Lori Yates, Mr. Jeff Kumagai, Mr. R. Thomas Renner, Ms. Jennifer Grover, West High's very own Mr. Jonathan "Top" Raman, Mr. Dave Villa, Ms. Rebekka Austin and Mr. Randy McMillan. Each did a remarkable job leading the students. When asked about his favorite part of the night, Raman replied, "Conducting… I had a blast and felt like I had all the power in the world. It was fantastic."
Fantastic it was, as every seat was occupied by parents and school faculty from all over the district. Though the music festival only takes place once a year, the energy and enthusiasm surrounding it is remarkable. It is unlike any other music event in Tracy as a variety of students are able to showcase their talent in a professional manner. Renner believes what makes this event stand out from others is "the number of people who get involved for one common goal. Everybody's passion is here, everybody's hard work is here and we get to enjoy all of those things all at once with each other." The festival provides students with opportunities outside of sheet music as well. Conductor Villa hopes students gain "teamwork, the confidence to present without feeling self conscious and [learn] to give their best in everything they do."
West High junior Nicholas Beedy, a percussionist, says that despite the performers only rehearsing twice before the big night, they were able to cooperate and create something great. He especially loved the "world premiere" of Battle in the Rainforest. This was senior Paige Mikels's sixth year participating in the festival. Mikels especially loved the amount of people involved. "[My favorite part was] seeing all of my orchestra friends from other schools… everything is very hectic but very rewarding."
The smiles on the faces of both young and returning performers during each applause and at the end of the night proved this event a success. Next year is a special year for the All District Music Festival with it being its 20 year anniversary. Renner hopes to make the next performance "extra special" and incorporate the milestone into the musical pieces.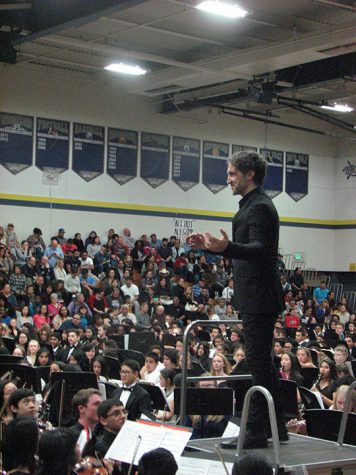 Christopher's