Run, swim, spike, tackle: summer sports!
Summer's almost here and it's time for endless rays of sunshine and Netflix binges. For those wanting to stay in shape during the break and become a part of a family on the court, on the course, on the field or even in the pool, don't miss out on these upcoming fall sports that will start their conditioning over the summer!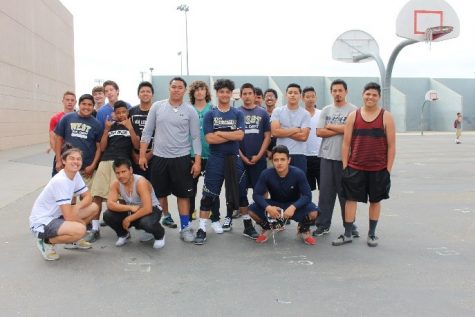 Girls Water Polo:
Join the girls water polo team as they take on the summer sun in the refreshing pool. Conditioning starts in early May, but summer practices will take place Monday through Thursday 10am to 12pm. Water polo will help you get in shape as well as form and develop friendships that will last in and out of the pool. Athletes should expect constant swimming skills development and friendly scrimmages against other players as well as the boys water polo team for practices. For conditioning, athletes should bring water, a swim cap, an appropriate one-piece swim suit that won't rip and a snack after. If interested, email Coach Pat Windschitl at [email protected]
Boys Water Polo:
Cool off from the summer heat with the water polo team as they start their conditioning May 29 at the West High Pool from 10am to 12pm. Practicing with the boys water polo team will encourage and help you become physically fit, challenge you with new, fun activities and offer a sense of comradery and competition among the team that will make for new and promising friendships. Practicing includes an hour and a half of constant swimming and treading as well as other aquatic exercises that will prepare you for meets. For conditioning, you will need a swim suit and goggles. With any questions, email Coach Erin Mann at [email protected]
Cross Country:
If you love to run and explore new places with a tight-knit team, cross country is the sport for you! Cross country conditioning starts June 19, meeting at 8:30am in the Raley's parking lot off of S Tracy Blvd, and will train you and build your endurance up. Athletes are also invited to join along in a trip to cross country camp June 28 to July 2, where you will bond with your team while running through the mountains. You will increase your stamina through running long distance, core exercises and speed training. Running anywhere from 3 to 10 miles, you will find your place among a family who pushes you to try your best and to never give up. For conditioning, you will need comfortable running shoes, light clothing and a water bottle. If you're interested in joining and have other questions, email Coach Theresa James at [email protected].
Girls golf:
Playing golf will provide you with valuable life skills as well as keep you in shape. Although girls golf does not hold summer conditioning, athletes are encouraged to play rounds during the summer or get lessons from a licensed professional in order to start the season off with experience. Golf is often played in the real world for professional meetings with careers in business, and these skills can open up new occupational doors for you in the future. Practices will include range work, short frame work, putting practice and playing holes. Students are encouraged to have their own clubs, balls, tees, markers and golf shoes. With any further questions, contact Coach Gary Moore at [email protected].
Football:
Football benefits you in many ways; you learn discipline and time management, improve physical fitness and become a part of a pack that fights for the win every single time. For football, there is a process. New players were required to attend a mandatory players meeting in February. Conditioning started March 1, as players continue to build their strength with both core lifting workouts and circuits that focus on foot work, agility movement, ladders, jumping over rope and bag work. If you were involved with any spring sports such as track and baseball, it is not too late to try out for football and see if it's a great fit for you! If you are interested, contact Coach Steven Wichman at [email protected]
Volleyball:
Ready to dive for the ball and learn how to spike it on your opponents? Volleyball conditioning for the 2017 season will begin on August 1 for about two and a half hours each day. Over the summer, new players are encouraged to condition on their own, working on speed, vertical agility and cardio. Athletes are also recommended to visit local clinics to keep their skills sharp. Volleyball is a team-oriented sport that will allow you to work with your teammates and build trust with each other. With a tough league and competitive teams playing year-round through club volleyball, traveling with the team makes the experience all the more memorable. Remember to bring water and appropriate shoes with good support and traction. Knee pads are also recommended for extra protection on tough dives. With further questions, contact Coach Christine Toon at [email protected]