Recipes to keep cool for the summer
Gummy bear popsicles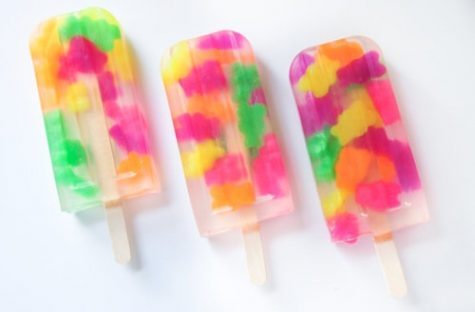 Ingredients/supplies:
Popsicle mold
Popsicle sticks
Gummy bears
Sprite
Directions:
Fill molds about ¾ of the way full with sprite
Drop in gummy bears
Place popsicle stick into mold
Place in freezer until frozen all the way through
https://www.diy-queen.com/2013/02/gummy-bear-popsicles/
Strawberry kiwi fruit pizza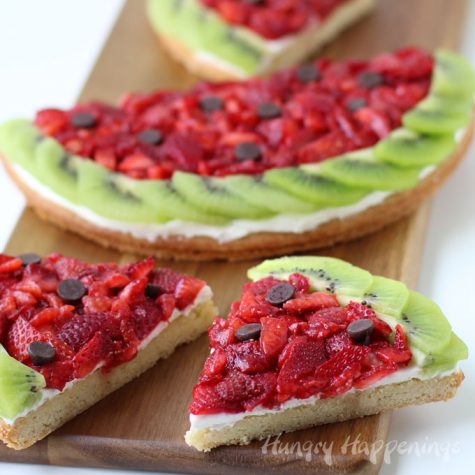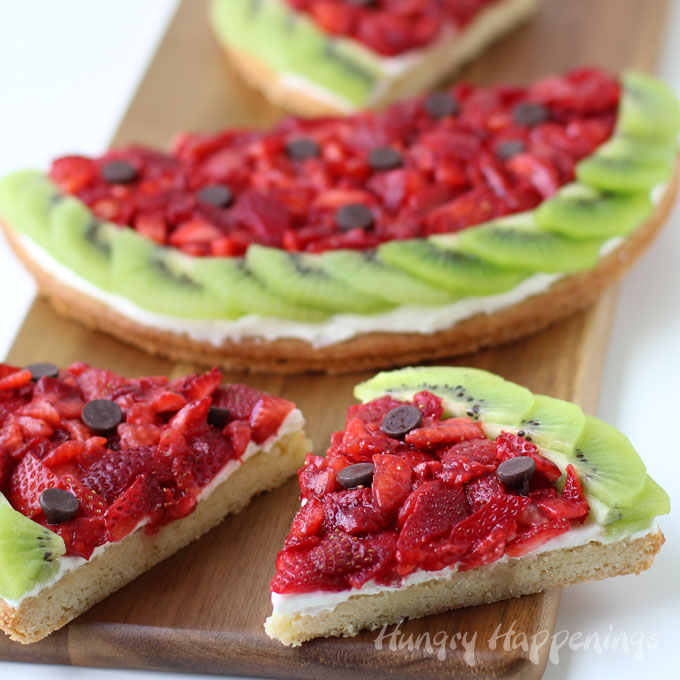 Ingredients:
Cookie crust:
1 pkg. Betty Crocker Sugar Cookie Mix
1 tablespoon flour
1 stick (1/2 cup) butter, softened
1 large egg
Cream cheese fluff:
1 block (8 ounces) cream cheese, softened
1 cup marshmallow fluff
1 cup frozen whipped topping, thawed
Toppings:
4 kiwis
2 pounds strawberries
32 chocolate chips
To make your own fruit pizza, you'll first start by making two round cookie crusts. Use parchment paper lined springform pans to make removal of the baked cookies a snap. If you use regular cake pans, you definitely want to line the pan to make sure you'll be able to remove the cookies from the pans.
 While the cookies are cooling, you can whip up some cream cheese fluff. Just beat the cream cheese until it's light and fluffy, add the marshmallow fluff and whipped topping and beat until combined. Then try to keep from sticking your finger in the bowl and eating too much of it so you have plenty to spread over both cookie crusts.
Cut each cookie in half before decorating with fruit.
Arrange thin slices of kiwi all along the edge of each cookie crust, forming the rind of the watermelon.
Most strawberries have white centers and you really want to just use the red part, so carve the bright red portions off the strawberries, leaving the white interior behind. You can snack on the interior parts or save them for a smoothie. Finely chop the red part of the berries and sprinkle over top of the cream cheese fluff.
Place about 8 chocolate chips on each watermelon half and your fruit pizza is ready to serve.
You can keep this dessert in the refrigerator in the few hours before serving, but it will look best if served soon after topping with the strawberries.
http://hungryhappenings.com/2015/07/strawberry-kiwi-fruit-pizza-watermelon.html/
Sparkling raspberry lemonade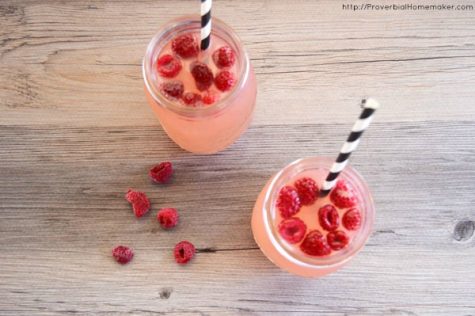 Ingredients:
6 medium lemons
3/4 cup sugar, divided
2 cups frozen raspberries, thawed
2 L Sprite
Directions:
Combine 1/4 cup sugar with 1 cup raspberries, mash gently with a potato masher, and let sit for 10 minutes.
Juice all 6 lemons and pour through a strainer to remove seeds and pulp.
Add to a pitcher with the remaining 1/2 cup sugar.
Push macerated raspberries through a strainer with a rubber spatula or the back of a spoon to extract all the juice and add to pitcher.
Add 2 L of Sprite and stir to combine.
Serve chilled and garnish with frozen raspberries.
http://www.proverbialhomemaker.com/sparkling-raspberry-lemonade.html
Ice cream in a bag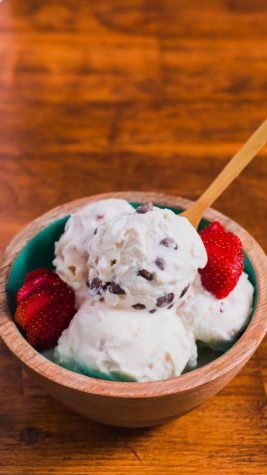 Ingredients:
½ cup milk
½ cup heavy cream
2 tablespoons sugar
1 teaspoon vanilla extract
Additional flavors (chocolate chips, chopped strawberries, crushed cookies)
2 cups of ice
6 tablespoons kosher or rock salt
Any flavorings of your choice
One gallon sized freezer bag
One smaller freezer bag
Directions:
In the smaller bag, combine cream, milk, sugar and any flavoring you want. For vanilla, simply add vanilla extract. Remove as much air as possible from bag before sealing tight.
Fill the larger bag halfway with ice. Add salt over the ice. Mix the bag to help distribute the salt.
Place the bag of ice cream mixture inside and seal the larger bag well. Shake the bag continuously for about 10-15 minutes, or until the mixture becomes firm. Use a kitchen towel or oven mitts to protect your hands from the cold.
Remove the ice cream filled bag from the ice, wipe the bag clean from salt and scoop out the ice cream to serve.