Music from the movies
On April 28, the music program held Music From the Movies, a benefit concert held to aid the victims of Hurricane Matthew. With an estimated 200 people attending the show, they raised over the desired amount of $1000. They played pieces ranging from the Godfather to Jurassic Park and also included sing-alongs from Frozen.
However this concert was not organized by Mr. Raman but concerned senior Kassandra Esparza. Esparza felt that it was "the victims in Haiti that needed the most help right now." Shortly after the hurricane passed, Esparza approached Raman with the idea. When asked what drove her to go through with the idea Esparza said, "I'm just so involved with the school."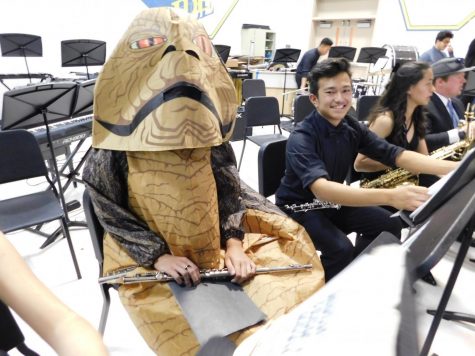 Senior Isabel Moore was also passionate about helping the victims and whose goal was "encouraging others to give back and open people's eyes to see how much help they do need." She stated, "It's important to go out there and raise money for them." Senior Kevin Zamora thinks it's important to raise money for the injured party because,"you realize that we live in a first world country that has all these resources and government funded things that we're able to access. In third world countries that aren't as blessed as us they don't have those resources, and raising money for charity will benefit their lives and their children's lives "
Also senior Nathan Concepcion said,"There is no better way to contribute to the cause than through the passion and love for music… it helped us all come together as a community for one memorable night." Congratulations to the Music program for inspiring us to help others through our passions.