Constructing her future: senior Hannah James's summer adventures in Chicago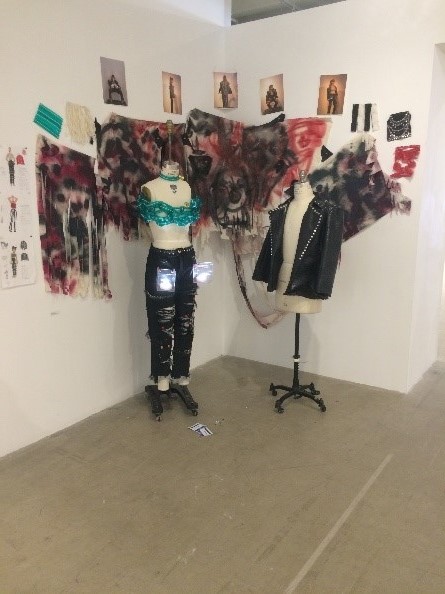 It isn't every day that we are given the chance to explore our greatest interests in grand cities 2,113 miles away. It sounds like a dream, a once-in-a-lifetime experience where you have the freedom to pursue your goals in an atmosphere that drives you towards your future. This summer, senior Hannah James had the opportunity to visit Chicago, Illinois and embrace her artistic passions through an art program with the Art Institute of Chicago.
James had received an email from the school during the summer and was excited to sign up for her first summer program session, July 3 through July 14. Moving in, James discovered that the dorms were specifically for the students who signed up for the program with her. For the next two weeks, James was surrounded by imaginative, creative people who all shared a passion for art. Living in the dorms gave her the insight as to what living on a college campus would really be like. "I spent a month there in the dorms and I think I really grew as a person. It made me really sure of what I want in my career," said James.
Excited and drawn towards art, James had signed up for a fashion construction course. This course was geared towards teaching students how to design, construct and sew their own garments. Students were given the opportunity to develop their own original pattern blocks, document their progress with photography and utilize a myriad of materials that allotted them the creative freedoms to experiment with various media such as paper, muslin and multiple fabrics.
The class James signed up for established her schedule in her workshop Monday through Friday at 9am to 12pm, when she would have a quick lunch break, but continue working 1pm to 4pm. During this time, James would practice in the, as she described it, "Project-runway style" workshop, sewing and designing fashion pieces that were to become a part of her final exhibition at the end of the course. One project James recalls was one that required her to make garments solely out of paper and tape. As a part of her personal punk-themed exhibition, James presented three garments that she had created during her hours at work: an inventive "tube" top made out of a garden hose, sewed black jeans and a faux snake skin jacket made from scratch.
Impressed by her creative style and ambition, the Art Institute of Chicago offered James a scholarship to stay an extended two more weeks, giving her the opportunity to continue exploring her capabilities. James enrolled in a second course titled Fashion at the Edge, where students experimented with presentation, contemporary fashion design and fine art practices. This hands-on experience allowed James to take the inspiration behind her passion and manifest it into an expressive, professional piece of fashion.
James was met with an atmosphere that helped her thrive in her artistic abilities and genuinely devote time to her passion. It was through this experience that James found the confidence within herself to pursue her dreams and continue on a path of artistic creativity for her future. "My favorite part was being able to completely focus on my projects… and finding a feeling of acceptance and encouragement because all I was there to do was 'art' and I was encouraged to go as crazy as I want… The experience made me even more sure that art is really the path I want to go on and it also made me feel confident in my abilities."