Wolfpack robotics get in the zone
Students from all over California competed in the Tracy Triangle Vex Robotics Tournament hosted by West High's Robotics Club on January 20. In a tournament of 69 teams, Wolf Pack Robotics' six teams held high rankings through all the matches that transpired in the gym. The clock ticked down on a total of 93 individual matches as robots raced around a 12 by 12 playing field, lifting yellow cones and mobile goals and placing them in various areas. This year's game "In the Zone" is a game revolving around strategy and coordination within the robots. Each robot was built, programmed and controlled by student drivers from numerous middle schools and high schools, including West High's own teams.
The massive tournament served as a major fundraiser for West's Robotics Club as well as providing another opportunity for West High students to compete with their own robots. For the three advanced teams, 9378A, 9378W and 9378S, this was an exciting tournament that provided a possible opportunity to go to state championships. For the first year robotic students on teams 9378E, 9378K and 9378M, the tournament introduced them to the more intense, action-packed world of robotics.
This tournament was very widespread, attracting nearly 70 teams from different areas of California. When discussing why teams compete in this tournament, Robotics Club Co-Advisor and science teacher Ms. Joyce Shade said, "We have certain teams… the day opens for you to register, and they're there because this is their thing. It's… an annual thing they like to come to."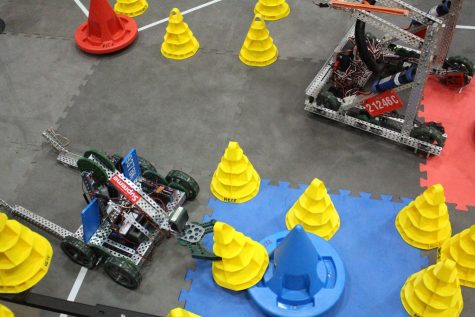 The tournament also served as a form of community service for some Space and Engineering Academy (SEA) students. Robotics students and other volunteers also invested hours of labor into setting up the fields, sound system and tables which all contributed to the event running smoothly. The robotics students were presented with the opportunity to understand the efforts required to pull off such an enormous tournament. Robotics Club and SEA Advisor Mr. Randy Moehnke explained the role of the robotics students before the tournament began. "Our robotics students: they get to help with the set up and clean up, so they get a chance to see the behind-the-scenes." For the volunteers and viewers of the tournament, the competing robotics teams battled from morning to night using game-winning strategies and well-built robots.
Wolf Pack Robotics students found a chance to learn from their wins and losses throughout their matches in the tournament. Freshman Simon Gonzales, who is project manager of 9378M, said, "It was way harder and longer than what we were used to, but I think all our teams performed better than what we expected." All the students who participated now have more experience with working with alliances and their own robots and are better prepared for their next matches. Overall, this year's exciting tournament faced some thrilling highs and lows, and next year's will definitely be looked forward to by all Robotics Club members.