Tracy narrowly defeats West, 73-71
The well-anticipated Varisty boys' game ended in Tracy's favor 73-71 in overtime Friday night. January 26. There was never a dull moment against the 'Pack's crosstown rival. The score constantly was moving with an average of a two point lead that switched off between the teams. Students on both sides cheered and jeered throughout the whole game. By the fourth quarter, the entire student section was on their feet.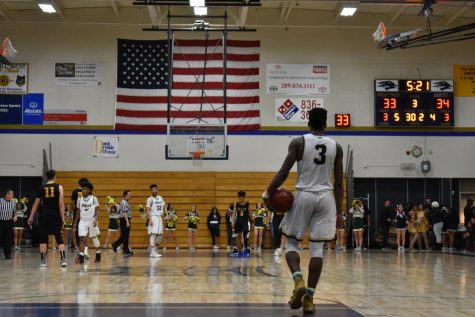 Some phenomenal plays were seen from the West boys. Senior Michael Hayes delivered his renowned slam dunks that made the crowd erupt into cheers, and senior Khyrei Currie's exceptional agility across the court certainly aided the team. Although the 'Pack didn't take the W that night, there was a recognizable achievement gained. According to Bob Brownne of the Tracy Press, "Hayes' 44 points for West included all but two of the Wolf Pack's 36 second-half points. It's the most a West player has scored in one game since December 2009."
The score was so close that by the end of the fourth quarter both teams were tied. Ultimately Tracy closed the game with two free throws. "We're going to have better match up and try to stay out of foul trouble," Currie said. "I feel like we played strong. At times we should've went harder, but at the end of the day I felt that we played a good tough game."
There is no doubt that the next game against Tracy High will be filled with the same excitement and cheers. The students were the core of the uproar during the game. Their passion was clear, they wanted the win as much as the team. The game was not won by overpower, but more of technicality. Both teams played with determination and grit resulting in the exhilarating game watched by many that night.
Support the team on February 14th when the 'Pack faces Tracy High once more.