Spring into a sport this season
With a new season just around the corner, different West High teams are preparing their players for the upcoming challenges this year. Whether it be sprinting, swimming or swinging, the Wolf Pack athletes are ready to claim their well-deserved triumphs this year.
Boys Golf:
A sport that requires patience and mental strength, boys golf puts to test accuracy, precision and focus. Coach Ryan Hern encourages his players to "relax and not stress." The goals are to have fun and learn the game of golf! With a growing team and intense, rewarding competition, golf teaches professionalism and exercises perseverance that players retain for many years to come. Practices are held Monday through Thursday at 3:30 pm at the Tracy Golf and Country Club. For more information, contact Coach Hern at [email protected]
Swimming:
Thrilling and full of action, West High's swim team is ready to make a splash this season. Swimming requires great determination, persistence and a drive to never give up. The team of 50+ swimmers, the largest the team has ever been, welcomes any interested athletes to their friendly atmosphere. The swimmers train Monday through Friday at 3:30 pm and Monday, Wednesday and Friday from 6 am to 7:20 am. Practices consist of swimming techniques, turns and dives that build stamina and speed. Coach Jacob Lawson advises his prospective and trained swimmers to always work hard and to embrace the reward at the end of the workout. "In the end, you are going to wish that the journey does not come to a stop," said Lawson.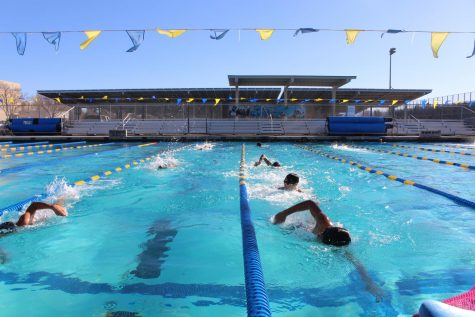 Boys Tennis:
The sport of tennis opens up many doors for athletes to increase their coordination, stamina and reaction skills. Practices involve rallying, serving and matches between pairs. Athletes have the opportunity to improve their own rallying styles as well as work with a partner to assist and encourage each other. "It's really fun," said senior Mounir Mansour. "We welcome anyone." Practices are held Mondays through Thursdays after school at 3:10 pm.
Track:
Whether it be long distance running, sprinting, pole vaulting, throwing or jumping, track emphasizes endurance. The track team takes pride in their determination and commitment to hard work. Distance track practices entail repeats with varying distances, long runs and weight training that encourages runners to challenge themselves and their limits. Sprinting tests athletes' mental and physical strength and pushes runners with various workouts that center on runners' high central nervous system, aerobic capacity and weight training. Pole vaulters defy heights and use their own special techniques and drills to continue improving individually and as a team. Throwers practice heavy weights, jumping and short sprints to achieve their goals and increase their upper and lower body strength. All of the aspects of track work together as one functional unit, one team of hardworking athletes with a mentality to strive for their goals, in order to dominate this year's track season. All track practices are held after school at 3:10 pm.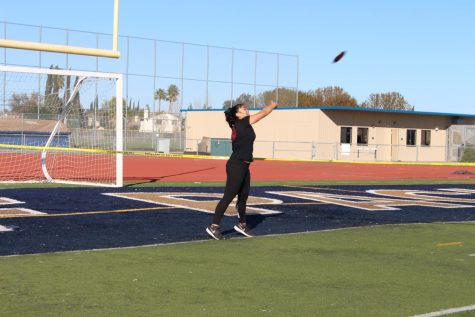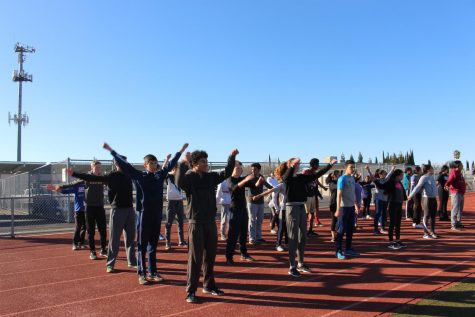 Boys Baseball:
Whether you enjoy being in the diamond or in the outfield, baseball welcomes all members to its team. Practices consist of running, practicing drills and working through plays. "You've got to have heart, got to have discipline," said senior Damon Lakey. Joining the baseball team also gives you the opportunity to meet a fun, energetic group of friends that encourage you to give your all on and off the field. Practices are everyday after school at 3:15 pm.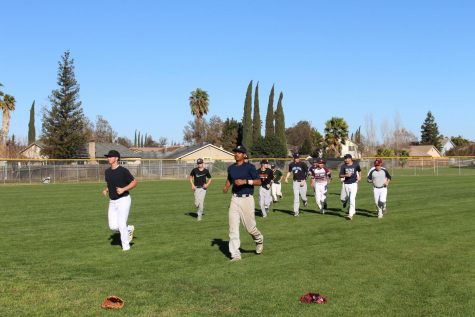 Softball:
West's softball team shines light on our female athletes who are determined and willing to put in the work to win. With various stretches, drills and plays, the softball team works hard at practices, preparing for their upcoming games. Players improve their pitching, batting and coordination skills while being surrounded by a memorable group of friends. "I really love the energy we all bring," said senior Serena Riley. "We all get along really well; we are our own group of friends even though we are all really different." Practices are held every day at the softball fields at 3:15 pm.