Get lost in a book this spring break
Turtles All the Way Down by John Green
Author John Green expresses the story of the anxiety-burdened heroine, Aza Holmes in his novel, Turtles All the Way Down. Aza Holmes has an obsessive-compulsive disorder and struggles with her own spiraling thoughts about the ecosystem of bacteria in her body. She is so obsessed with her well-being that sometimes she cannot resist the urge to use hand sanitizer as a replacement for mouthwash, similarly having a lesion on her finger, which she constantly reopens to sanitize.
The novel kicks off when the billionaire of the town gets away before the police comes to arrest him for bribery and fraud. Anyone who can offer any information that leads to where this billionaire could be is offered a reward of $100,000. Aza's best friend, Daisy, recalls that Aza met this billionaire's son in a camp over the summer and convinces Aza to help her get the reward. I would give this novel four paws out of five for its overall great story, though being somewhat repetitive nature.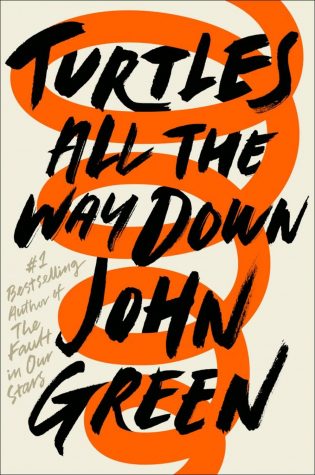 Chopsticks by Jessica Anthony
Chopsticks is a visual novel of real life pictures, telling a story. This makes the story more difficult to pick up and will send you back to the start again. With many clues given that all link up later on, Chopsticks begins with the main character, Glory who goes missing. It starts off 18 months earlier and retells the heart wrenching story of Glory and Frank.
Glory has a long career and great life ahead of her while Frank is in a more difficult state with his grades being less than average. However, he is gifted in music and art. They are both drawn to each other. Glory is great at piano, and in meeting Frank, she begins to stray from her passion in classical music and playing seriously. It is difficult to tell what is reality and what is not in the visual novel. I give Chopsticks four out of five paws because of the way it left me questioning the overall story and I only spent thirty minutes reading it, not taking up too much of my time.