West High's 2018 Valedictorian and Salutatorian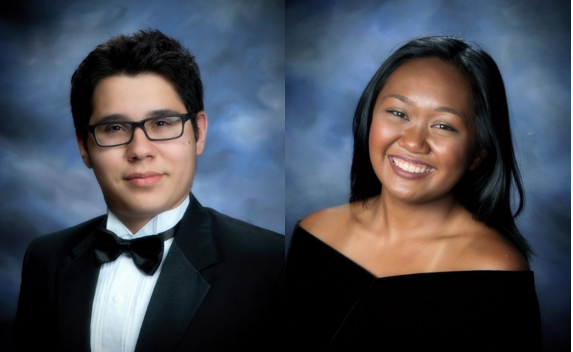 Days, weeks and months are often correlated with the time it takes to accomplish goals, but for two West High seniors, it took four years of diligence, rigor and motivation to reach that goal. With the school year on its last stretch, we congratulate seniors José Mexicano and Chaztine Embucado for achieving the prestigious titles of West High School's 2018 Valedictorian and Salutatorian, respectively.
Planning to attend University of California, Davis, Mexicano is entering under Biology but hopes to double major with Mathematics. When discussing his hopes for a future job, Mexicano specifically said, "A public high school Mathematics or Biology teacher; I want to give others the chance that I was given."
With hours of hard work and dedication, Mexicano ends his four years at West High with an accumulative unweighted GPA of 3.97 and accumulative weighted GPA of 4.3, even racking up a 5.0 this last semester. Mexicano's impressive GPA didn't come easy; he stayed atop his grades in all his classes, including eight Advanced Placement and one honors class. In terms of difficulty Mexicano said, "I remember it being a lot easier than I know it was." The stacks of homework although never leading to all-nighters, had caused "aching eyes and exhaustion" as he balanced school and extracurriculars. As with many other students, Mexicano stayed well-rounded through high school, participating in various activities, sports and clubs. Freshman year he was in marching band, sophomore year he played water polo and swimming, junior year he continued water polo and swimming, but also became an Academy Representative and finally, during his senior year, Mexicano participated in Academic Decathalon and was an officer for Project Smile.
Salutatorian Embucado will be attending University of California, San Diego and although undeclared as of now, she hopes to transfer into their School of Engineering. In terms of future jobs, Embucado professes her dream job to be a Developmental Engineer for The National Aeronautics and Space Administration (NASA).
Taking on five Advanced Placement classes and one honors class, Embucado totals an accumulative unweighted GPA of 3.97 and accumulative weighted GPA of 4.22. Embucado balanced her courses with an extensive list of extracurricular activities and positions. She participated in water polo and swimming her freshman year, and Embucado continued on with these sports during her sophomore year but also joined robotics. Junior year was filled with cross country, swimming, robotics and the Space and Engineering (SEA) Student Council and lastly, her senior year included Pole Vault, robotics and SEA Student Council. For Embucado, balancing all that her busy schedule demanded, took great perseverance as she admitted, "There were many days I wondered if my efforts would amount to anything." Few hours of sleep were granted after practices as she would wake up around 1 a.m. many nights to study and complete her work.
When asked for any tips for the underclassmen, Embucado recommends to "Put your pride away, but keep your confidence…  learn to work under pressure and judgment… last but not least, [remember] you are not alone."
Mexicano on the other hand, reminds students to "Focus on doing better, [rather] than to worry about how you may or may not have done. Past grades cannot be changed, so why worry about them?"
Once again, we foresee the end of another school year, but this time, for our seniors, a new beginning lies ahead. The 'Pack is proud of Mexicano and Embucado's accomplishments and we truly hope to see them take on the world and achieve even greater goals, hopefully, ones that leave an impact, maybe even a paw print.