SEA serving their community through senior projects
As the end of the year approaches, seniors from West High's well-known Space and Engineering Academy (SEA) have left their marks in our community. With their senior projects, they work with different areas around Tracy to construct something that utilizes the principles they learned throughout their time in the Academy. These projects are targeted toward helping the community as well as giving the seniors a chance to show their knowledge of engineering. The seniors work in teams to plan, build and present a final product. Here are three of the senior projects which were built by students of the SEA senior class of 2018.
V.B.R. Drawer Cubbies
Engineered by Christopher Chan, Chaztine-Xiana Embucado, Anna Chavarria and Jade Ou, these drawer cubbies were for V.B.R. Foster Family Agencies and Children Services located in downtown Tracy. The drawers are to hold toys to keep foster children entertained in V.B.R.'s waiting room. They originally planned on working with Emerson House but switched to working with V.B.R. when the opportunity to help foster children arose. Due to this, the four students spent around 400 hours on their project. For about three months, they planned and prepared a project for Emerson House but had to start all over when they reached out to V.B.R. As a result, an additional month and a half was spent with the team working daily to make a finished product. During these hours, the team learned to work with power tools and developed new communication skills. They especially learned the importance of teamwork over the course of the entire project. When asked about how the senior project had benefited them, Embucado said, "We learned a lot of problem solving; not only dealing with the mechanics of engineering but dealing with people." Each team member agreed how long-term planning became a necessary skill to complete their project with references to the long-term projects they had done in Engineering 3. As the first Academy group to reach out to V.B.R., the team found themselves helping a part of the community that benefited greatly from their project. As a parting gift to future Academy students, Ou left a recommendation for students to reach out to V.B.R. in coming years and help in their own way.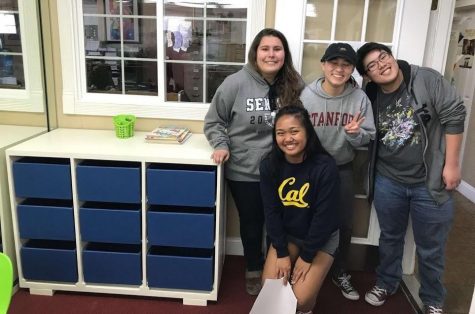 The Eighth Wonder of the World!
Constructed by Jonathan Hidalgo, Rafee Qureshi, José Mexicano and Brian Furtado, a creative table and bench now graces Valley Christian Church's butterfly garden and is currently in use. Their hexagonal picnic table was built from redwood and relied on a lot of factors to get it as perfect as possible. It features solar panels located in a removable part in the middle of the bench. As the project progressed, the group faced problems regarding wrong-sized screw heads, cutting wood to the proper dimensions and budgeting. However, they found ways to make their bench eco-friendly by using acrylic based finishers despite the longer amount of time it took. The students found that geometry was extremely useful when it came to measuring the angles needed to make the bench functional. In addition, they applied skills learned in Engineering 3 to hone the design for their project with Creo, a 3D modeling software. They also explained how their first year in Engineering 1 had exposed them to using different types of tools that helped them effectively construct their senior project. During the course of their project, they discovered new tools and new techniques regarding sand sponges and the usage of triangles in construction. Each of them feels great about the outcome of their handcrafted project and the effect it leaves in our community. "It's like a nice way of saying goodbye," said Mexicano.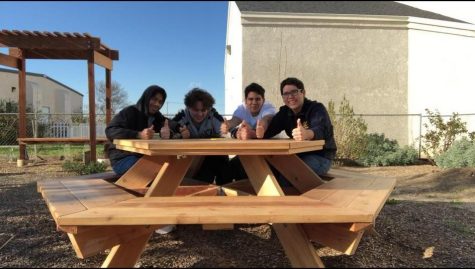 The Cabinet
Built by Isa Guragain, Dennis Iljincika, Dylan Thompson and Nathan Cruit, this cabinet was inspired when they reached out to Thompson's middle school science teacher about their project. Now in Anthony C. Traina Elementary School, this cabinet is in frequent use by the school's science department. This project spanned a short time with its building and planning as they all remained focused on their final goal. Each member emphasized how budgeting was a major problem in their project. When asked on how they saved money, Iljincika said, "We planned out exactly what we needed to buy." This pertains to the amount of wood and tools they needed as they made sure to buy nothing extra. The project taught the members how to coat a cabinet, use Creo effectively and how to cut wood to exact measurements. After delivering their cabinet to Traina, the students felt as if their time in the Academy was worth the struggle as they saw how happy the cabinet made their teacher. The seniors all appreciated what they learned in the Academy in their four years and leave the legacy of the Academy class of 2018 with their projects.