Recipes for your holiday sweet tooth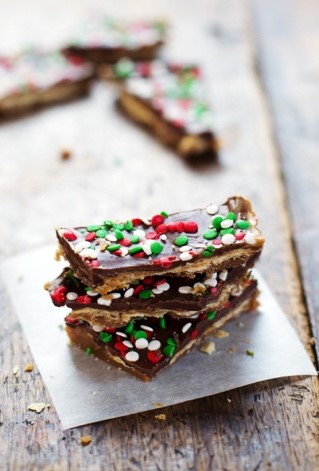 Chocolate Peanut Butter Saltine Toffee
Difficulty: easy
Time: 25 min
Ingredients:
1 cup brown sugar
1 cup salted butter
1 sleeve of Saltine crackers
3/4 cup peanut butter
1 ½ cups chocolate chips
sprinkles
Instructions:
Preheat the oven to 400 degrees Fahrenheit. Cover a 9×13 inch baking sheet with aluminum foil and spray nonstick cooking spray on it.
Line the baking sheet with saltine crackers while making sure to leave some room between the crackers. Set the sheet aside.
In a nonstick sauce pan, melt together the butter and brown sugar, bringing it to a boil but not stirring it for 3 minutes. Pour the mixture over the crackers and bake it for 5 minutes.
Add peanut butter on top of the mixture, bake for 1 minute and then spread the peanut butter evenly.
Next add on the chocolate chips then bake again for 1 minute before spreading again.
Other toppings like sprinkles, nuts, marshmallows and more are optional
Let the dessert chill in the freezer for 1 hour to set, then break it into pieces and enjoy!
See original recipe here!
Hot Chocolate Marble Pound Cake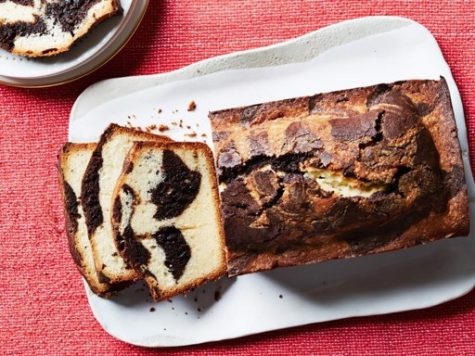 Difficulty: moderate
Time: 2 ½ hours
Ingredients:
2 sticks of room temperature unsalted butter
1 3/4 cups all-purpose flour
1/2 teaspoon fine salt
4 large room temperature eggs
2 tablespoons of sour cream
1 teaspoon of pure vanilla extract
1 1/4 cups sugar
1/2 cup hot chocolate or cocoa mix
Instructions:
Preheat oven to 325 degrees Fahrenheit and make sure the rack is in the bottom third of the oven. Then grease a 9×5 inch loaf pan.
In a medium bowl, sift flour and salt. In a small bowl, whisk eggs, sour cream and vanilla.
Using an electric mixer, beat butter in a bowl on medium speed until smooth. While mixing, add ¼ cup sugar at a time until mixture is light and fluffy, for about 5 minutes.
Add in the flour, ¼ cup at a time, with the mixer at low speed. Beat for 30 seconds before adding in the eggs.
Put about 1/3 of the batter into a bowl and stir in the hot chocolate mix. Put ½ of the remaining vanilla batter into the loaf pan. Using a spoon, add spoonfuls of the hot chocolate mix and vanilla mix on top of the vanilla mix that is already in the pan.
Use a skewer to swirl the batters together to create the marble effect. Tap pan on counter to level.
Bake for 1 hour to 1 ½ hours. You can check if it is done with a toothpick. To do so, stick the toothpick in and if it comes out clean, the cake is done.
Cool in pan for a few minutes then invert and cool on rack completely. Finally, enjoy!
See original recipe here!
 Chewy Lemon Snowdrop Cookies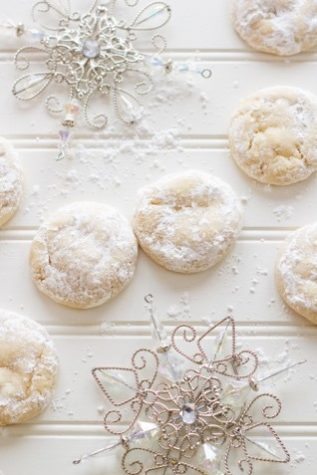 Difficulty: easy
Time: 1 ½ hours
Ingredients:
2/3 cup sugar
1 tablespoon (finely grated lemon zest)
½ cup unsalted room temperature butter
3 tablespoons freshly-squeezed lemon juice
2 tablespoons honey
1 teaspoon vanilla extract
1 teaspoon lemon extract
2 cups all-purpose flour
1 teaspoon baking soda
1/4 teaspoon sea salt
1/2 cup powdered sugar
Instructions:
Add lemon zest and sugar into a stand mixer. Rub the mixture together for a fragrance boost.
Using the paddle attachment, mix in the butter. Cream the mixture and scrape sides of bowl as needed.
Add in the lemon juice, honey, vanilla extract and lemon extract and beat until thoroughly mixed.
Add in the dry ingredients: flour, baking soda and sea salt. Mix the dough until it starts to form a ball in the bowl.
Chill in fridge for 30 min and preheat oven to 350 degrees Fahrenheit.
Form the dough into balls that are about 1 ½ inches wide and place on an ungreased cool baking sheet.
Bake for 8-10 min or until the bottom of cookie are a light brown color. Let them cool for a few minutes before tossing them in powdered sugar. Now you can serve them!
See original recipe here!