Government Shutdown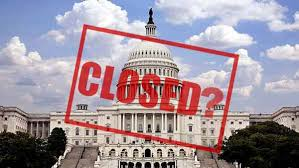 From December 22, 2018 up to the new year on January 25, 2019, it seems that all the newscasters talked about was the Government Shutdown.  The shutdown was the longest ever to be recorded in U.S. history exceeding to 35 days.  The government reopened for three weeks on January 25, 2019 for allowing federal workers to return to work. However, the President's demand of the border wall still stands.
What is a government shutdown?  A government shutdown takes place when funding is needed within the federal government causing a shutdown of federal government operations either fully or partly.  This shutdown relates to people in the work force that have jobs connected to the government such as:  NASA, the FBI, Department of Homeland Security, Transportation Security Administration, Forest and National Park Services and many more federal jobs.  Nearly 800,000 employees were affected by not receiving any payment due to the shutdown.  According to Washington Post, about, "380,000 were furloughed, or were absent from work, without getting paid while the 770.000 employees still worked without pay."
The initiation of the shutdown began when President Donald Trump on December 11, 2018 announced to Democratic leaders that he would shut down the government if they didn't provide over five billion dollars to build the border wall.  Speaker of the House Nancy Pelosi and Senate Minority Leader Charles Schumer in response told President Trump that he lacked funding for building the wall.
The Senate passed a short-term spending bill that would fund the government on December 19th to avoid another shutdown.  But on the 20th, President Trump refused to sign it still holding his proposition of the border walls.  Two days later, the government partially shut down.  For three long weeks, both the Democrats and Trump spewed over the more than five billion dollars border wall.  Democrat Charles Schumer, told USA Today that Trump was willing to have the government shutdown to be closed for months or years until the wall was funded.  President Trump approved this comment.
Finally, on January 19th, the battle finally settled with Trump offering to the Democrats for protection of migrant children who entered the U.S. illegally instead of the five billion dollar wall.  The Democrats did agree on the exchange and the shutdown ended.
Local Tracy civilian, Mike Sandhu of Sandhu Bros. Farm has helped out during the shutdown.  Mr. Sandhu has helped those federal workers who are not receiving payment by offering to pay rent and mortgage, not only in Tracy but around the country.  Sandhu, who sees Tracy as a family, believes that no one should be affected from the government not being able to decide. "I am not against Congress or the president.  I am more concerned about the workers."  When asking what we as high school students can learn from this shutdown, he responded with, "It's life.  A lot of things can come up.  You can't keep [sic] anything for granted."