A step forward: 2019 Suicide Prevention Walk
Held on February 23, the Suicide Prevention Walk here at West was a success.  Organized by junior Nathan Campbell, the walk was planned in respect to his uncle he lost last year to suicide.  Campbell said that Mr. Scott Behnam was someone who made this walk possible. Behnam, the leadership and English teacher, explained the walk as "amazing.  A lot of enthusiasm and information to get help and raises awareness."
The atmosphere of the walk was fun and jubilant. Yellow balloons and streamers along with music flowed throughout the event and booths were more than happy to give information and resources.  Sponsors such as Sow a Seed and Yellow Ribbon Suicide Awareness set up booths with helpful resources.
Performances from Asian Pacific Islander (API), Royal G's and Jazz Ensemble Collective Experience Premiere Exclusive (JECEPE) added more to the morale of the walk.  Project Smile's colorful booth provided a "Take What You Need" wall that contained positive messages that you could take with you.  School psychologist, Mr. Eric Lee and One Day at a Time (ODAT) also had booths set up as well.  Also featured was a wall full of yellow balloons that represented family or friends that were lost to suicide.  When asking others on thoughts of the walk, senior Michelle Canche responded saying, "This is really great.  People need to learn to take suicide seriously."
"The walk really shows all the opportunities you can have," said senior Jasmine Jemera.  Campbell hopes to continue the Suicide Prevention Walk annually.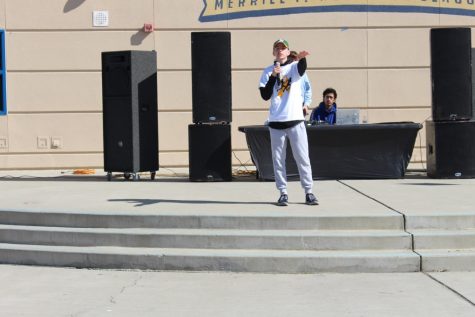 Junior Nathan Campbell