Springtime sweets
Spring is coming with allergies and bunnies. Make sure you're ready with delicious spring-themed treats.
Here's an allergy free way to enjoy flowers thanks to twosisterscrafting.com. It's cute and really easy to make.
Ingredients:
Hanover Pretzel Snaps
Wilton Candy Melts – Bright White
Easter M&M Candies
Directions:
Arrange 8 to 9 Pretzel Snaps on a paper plate.
Place a candy melt in the center of each pretzel.
Place the plate of pretzels in the microwave and heat them until the candy melts are at the beginning stage of being melted. They should be soft to the touch and melted enough to press a M&M down into it but not so melty that the candy is running off the pretzel (approximately 50 seconds).
Using Easter colored M&M's, place a single M&M in the center of the melted candy melt for the flower center.
Now press in the flower petals with contrasting colored M&M's – use six M&M's for the petals.
Let the Spring Flower Pretzel Bites to fully set up.
Store in an air-tight container.
Have you gotten in trouble as a kid for eating dirt? Well here's a way to eat dirt, without the trouble! Recipe from thespruceeats.com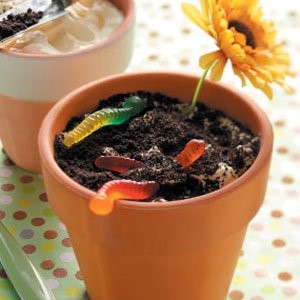 Dirt Cake
Ingredients:
box chocolate sandwich cookies (such as Oreos)
2 (3.9-ounce) packages instant chocolate pudding
3 1/2 cups milk
8 ounces cream cheese (softened)
2  (8- to10-ounce) containers whipped topping (frozen, thawed)
2 or 3 gummy worms
Directions:
Crush cookies until they resemble potting soil. Divide half of the crumbs between the flower pots. Set pots and remaining crumbs aside.
In a large bowl, beat the cream cheese, butter, sugar and vanilla until light and fluffy. In another bowl, whisk milk and pudding mix for 2 minutes (mixture will be thick). Fold in whipped topping. Gently fold into cream cheese mixture until blended.
Add filling to pots; top with reserved crumbs. Cover and refrigerate until chilled. If desired, wrap silk flower stems in foil; add to flower pots. Decorate with gummy worms and display with gardening tools if desired.
You can't go wrong with cake pops. Try this simple recipe from www.charlottemagazine.com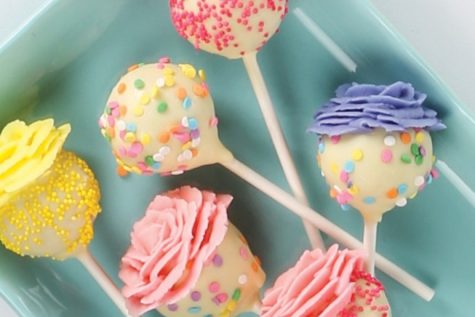 Springtime Cake Pops
Ingredients:
Cake
1 cup butter, room temperature
2 cups sugar
4 eggs
1 teaspoon vanilla
1 1/2 cups self-rising flour
1/2 cups all-purpose flour
1 cup milk
2 tablespoons oil
Frosting
1 cup butter, room temperature
3 to 4 cups confectioners' sugar
1 tablespoon milk
1 tablespoon vanilla
Pops
1 pound white or milk chocolate or colored candy melts
Glass bowl for melting or double boiler
Lollipop sticks
Cookie sheet lined with parchment paper
Styrofoam block
Directions:
In a mixing bowl, beat sugar and butter together using an electric mixer. Add eggs and beat until combined. Mix in vanilla and salt. Add self-rising flour and half of the milk, and combine. Add all-purpose flour and remaining milk, and mix until lumps are gone. Add oil and mix well. Make sure to scrape sides of the bowl so ingredients are incorporated before pouring into a cake pan coated with cooking spray.
Bake at 350 degrees for 20 minutes, rotate the pan and bake for an additional 15 minutes.
Let the cake cool, then crumble into a mixing bowl using electric mixer on low until cake is in fine crumbs. Slowly add frosting (recipe above) until consistency is that of Play-Doh.
Using a small ice cream scoop, form into balls and chill on parchment paper in freezer while preparing chocolate.
In glass bowl, slowly temper chocolate. If you find the consistency of the chocolate is too thick for dipping, add a teaspoon of shortening and whisk. Dip a lollipop stick into the chocolate, then insert into the center of a frozen cake ball. Return to freezer to set.
Dip each frozen ball into the chocolate, completely cover the ball and tap excess chocolate on the edge of the bowl. Set cake pop standing up in Styrofoam. Be sure to add any decorations or sprinkles before the chocolate sets.