College 101: things to take with you to your new home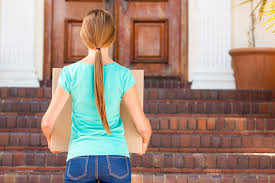 Hang on for a minute...we're trying to find some more stories you might like.
This is it, seniors. AP testing, finals and then BOOM, graduation. Time for freedom! Time for independence! Time to get out in the world and see what life is like away from home. For those of you pursuing a college farther than a commute away, living in the dorms at the school of your choice is an option you may be interested in. Whether it's miles, a couple hours or a few states away, there are some universal items that may help the transition from Tracy home to future college a tad easier. Don't forget these helpful tips as you pack your bags and move on out! 
Necessities: 
Power strip with multiple outlets

 

Backup cell phone charger

Backup laptop chargers

 

Desk lamp

 

Stain remover

 

Cups, plates and utensils (you will definitely want to eat in your room)

 
Multiple bedsheets (beds tend to be extra-long twin beds)

 

Clothes only worn during that season (dorm closet space is limited)

 

Headphones

 

Comfortable shoes

 

Slippers

 

Shower shoes/flip flops

 
Bath towels and beach towels

 

Basic hygiene items: shampoo, conditioner, body soap, razors, face wash, hair product, hair brushes, deodorant, perfume/cologne, toothbrush, toothpaste and makeup

 

Shower caddy

 

Crates for storage

 
Sewing kit, scissors and safety pins

 

Small first aid kit

 

Calendar

 

Basic office supplies: post its, paper clips, stamps, index cards, whiteout, tape, stapler, glue, erasers, highlighters, rulers, extra pencils and pens

 

File box

 
Three-hole

punch

 

Pencil cup for supply organization

 

Trash can

 

Tweezers

 

Kleenex tissues

 
Laundry basket

 

Duct tape

 

Nail clippers

 

Lint roller

 

Sunscreen

 
Sunglasses

 

Reusable water bottle

 
Optional: 
Electric kettle

 

Coffee maker

 
Water pitcher with filter

 

Iron and ironing board

 

Poster putty (for hanging up decorations)

 

Umbrella

 

 

Floor rug

 
Rolls of quarters

(to do laundry)

 

Earplugs or sleep mask

 

Small safe for valuable belongings

 

Bike

or skateboard

and helmet

 

Bike lock

 
Bike pump

 

Bluetooth speaker

 

Broom and dustpan

 

Work-out clothes and shoes

 

Hair dryer

 
Small refrigerator/microwave (check with college for restrictions)

 

Robe

 

Flashlight

 

Extra blankets and pillows

 

Can opener

 
Disposable camera

 

Disinfecting wipes

 

Lap desk

 

Mirror

 

Multivitamins

 
Cotton balls and Q tips

 

White board and markers

 

Envelopes

 

Folding chairs

 

Mini vacuum

 
Vaseline

 

Sports equipment, balls and

Frisb

ees