West High's 2019 Valedictorians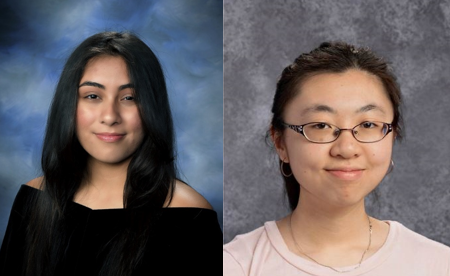 West High congratulates Vicky Diep and Sherien Maroufkhani for both putting in four years of hard work to share the title of Valedictorian for Wolf Packs' graduating class of 2019.  Diep and Maroufkhani tied in their GPA to both earn the title of Valedictorian.
Sherien Maroufkhani
With an interest in psychology and in-depth science, Sherien Maroufkhani plans combine those subjects by attending UC Berkley with a major in Neurobiology.  Maroufkhani has a passion for performance and dance as she participates in West High's drama program to be a part of annual favorites such as the Lip Sync. When asked about advice to underclassman Maroufkhani replied, "Don't take it too seriously; it's not going to matter pretty soon." Sherien Maroufkhani hopes to find a balance with her career, but more importantly her happiness as she starts the next step of her life.
Vicky Diep
Vicky Diep plans to attend UC Davis and major in Neurobiology, Physiology and Behavior. She hopes to become a surgeon and serve under-developed countries in her career. Diep took nine AP classes through the course of her high school career and advises her fellow students to, "try to take care of yourself because I know it's hard balancing schoolwork and extra curriculars." Diep thanks a handful of friends and teachers who helped make a positive impact in her high school journey.
Once again, the 'Pack congratulates both Vicky Diep and Sherien Maroufkhani on their hard work and wishes them the best in college!