Recipes to snack and sip on in the sunshine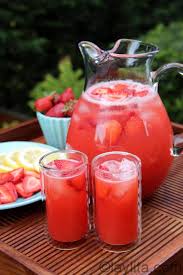 Strawberry Lemonade:
-8 large strawberries
-7 cups water
-1 cup white sugar
-2 cups freshly squeezed lemon juice
Instructions
: Add all ingredients into a jar or container and mix well.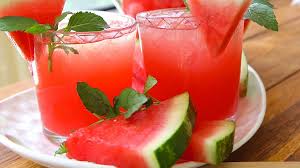 Watermelon lemonade:
-1 6 -7lb. watermelon
-Simple syrup
-Zest of 2 limes
-Juice of 4 limes (about 1/2 cup total)
-Honeydew ginger mint
-2 4-lb. honeydew melons
-2 tbsp. fresh grated ginger
-4 sprigs fresh mint
-1 6lb. cantaloupe
-2 large sprigs fresh basil
Instructions:
Add all ingredients to a container and mix. You can also add sugar if the drink is not sweet enough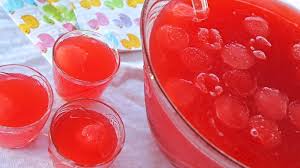 Fruit Punch
-1 bottle unsweetened pineapple juice, 1 (2 liter) bottle ginger ale
-1/2 gallon orange sherbet
Instructions:
In a punch bowl, mix together fruit punch, pineapple juice and ginger ale. Add scoops of sherbet into the punch. Wait for the sherbet to begin melting (approximately 10 minutes) stir gently and serve.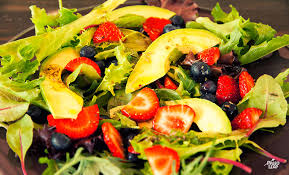 Summer salad:
-400g black beans, drained
-2 large handfuls baby spinach leaves
-500g heritage tomatoes
-½ cucumber sliced
-1 mango, chopped
-1 large red onion, sliced
-6-8 radishes, sliced
-2 avocados, peeled and sliced
-100g feta, crumbled
-handful of herbs (reserved from the dressing)
For the dressing use: (optional)
-large bunch mint
-small bunch coriander
-small bunch basil
-1 fat green chili, no seeds and chopped
-1 small garlic clove
-100ml extra virgin olive oil or grapeseed oil
-2 limes, zested and juiced
-2 tbsp white wine vinegar
-2 tsp honey
Instructions:
1.Combine all the ingredients for the dressing in a bowl and mix well.
2.Assemble the salad in a bowl or plate by combining all the ingredients.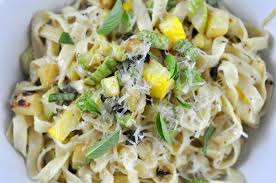 Creamy Zucchini Fettuccine:
Ingredients:
-Salt
-8 ounces fettuccine
-4 tablespoons butter
-4 cloves garlic, chopped
-1/4 to 1/2 teaspoon chile flakes,
-2 small zucchini, diced
-Zest of 1 lemon
-1/4 cup heavy cream
-1/2 cup grated Romano or Parmesan cheese
-Pepper
-Fresh Basil (optional)
Instructions:
1.Bring a pot of water to a boil over high heat. Add salt to the water.
2. Cook the pasta according to the package directions. It's important to drain the pasta before it's ready so it doesn't become too soft.
3. Meanwhile, melt 1 tablespoon of the butter in a pan over medium heat. Add the garlic and chile flakes. Let them sizzle for 30 seconds to a minute, then add the zucchini. Stir the vegetables to coat. Cook, stirring occasionally, until some of the water has cooked off and the veggies are tender (5 to 7 minutes); young summer zucchini doesn't need much cooking. Add the lemon zest and stir.
4. Drain the fettuccine and add it to the pan, along with the remaining 3 tablespoons of butter, the cream and most of the cheese. Toss the fettuccine around the pan, add salt and lots of freshly ground pepper to taste. Top with a bit more cheese and a sprinkling of basil (if using) and serve immediately.