Selena Gomez's + chef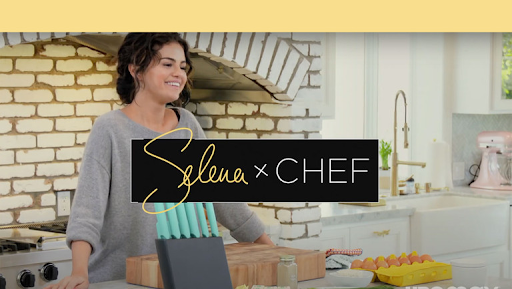 Tired of watching the same boring television programs every night? Bored with the same homemade food? Well, worry no more, I have a TV show for you.  
Selena Gomez, an American singer, songwriter, actress and producer has her own show called "Selena + chef." The show looks both interesting and hilarious as it follows Selena as she touches up on her cooking skills with professional chefs while self-isolating at home. This is a great show to watch when you are bored at home. It airs on HBO Max and was first shown on August 13. I know what you are thinking, HBO Max is a paid subscription. But, have no fear, you can access the show for free on YouTube. "Selena + chef" has 10 episodes. Each features Selena with a prominent chef, each of them in their respective kitchens, as Selena learns how to cook. And it`s not "learning," as in someone who already has some basic skills and is trying to get to the next level. Judging from the trailer, Selena`s comfort level in the kitchen is low. She doesn`t cut things smoothly, for example, she doesn't already have the technique, which is something I appreciate. Personally, I cook, and I think I've gotten better at cooking, especially now since over the last five months I had nothing to do beside cooking. I don`t cook on camera that is I'm not out there doing the chopping all fast and efficient the way you typically see people at the kitchen island over the cutting board. I am a slow cooker. I am too busy trying to figure out what to do with the recipe and understanding what certain words mean and whether I have those materials in my pantry or my fridge to be able to make cooking look effective. Selena is not making the cooking look effective and that`s part of the draw. The other part of the draw, if we decide to tune in, is of course Selena herself. Seeing her in her home, what do her utensils look like? According to Variety Magazine, Selena Gomez had a hard time over the last few year; she had a kidney transplant over the summer due to complications from Lupus, an autoimmune disease that causes harm to organs and tissues. Selena has retracted; she was gone months at a time without posting on social media. Staying out of the spotlight, avoiding attention and trying to reframe her frame, she is now opening up again, and invites us into her home to watch her trying new things which she had never done before, and she chooses this program to tell people no matter what happened to you in the past get over it and be happy. Try new things in life that make you happy. In a new interview, Selena talked about finding the silver lining in quarantine and how she's actually "learned so much" about herself during this time. She said, "I think there`s been a lot of blessings in the breaking. It's not easy for anyone to be walking through what we`re walking through. It's not normal. It's affecting people specifically with mental health. People who have never thought about things that they're thinking about now it's confusing." Despite all of this she is grateful for what she has. She said, "l have great friends; I see a therapist. I try to keep my mind positive. I've learned so much about myself. I've learned so much about my country than I ever have from school or anywhere. I've been very grateful for that as well. Lot has changed. And I`m 28 now, whatever that means." 
     What do you think about her? What you learn so for during COVID-19 pandemic? How you will suffer with hard time? Please share with us. I myself have been learn so much during this pandemic I tried new things. From cooking to drawing, playing sports, riding a bike and reading books. Make your life happy. Do what makes you happy be grateful learn for your past.  
4.5/5 Paws