Book Review: "How Google Works"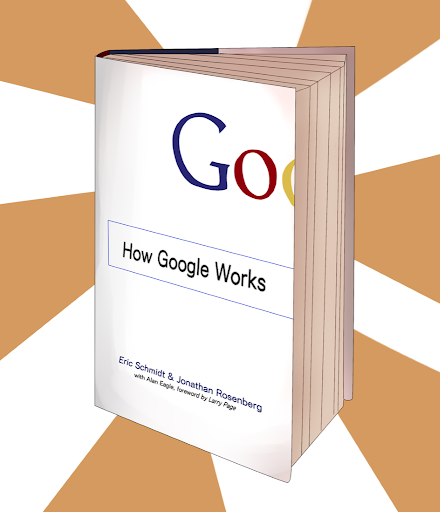 "How Google Works" is a wonderfully written book by Eric Schmidt and Jonathan Rosenberg which gives insight onto how Google provides a series of steps on developing into a big-tech company. I'm interested in reading "How Google Works" since the book gives important ideas and point of views of management which come from Google CEO (2001-2011), Eric Schmidt and Google head of Products, Jonathan Rosenberg. There are many real lessons for not only technical start-up companies, but also every company you could ever imagine. We have known Google to be a big tech company.  This book describes the way Google has developed from the start-up company to replacing Microsoft's position in the market. Since CEOs of Google are the authors, the book is not too hard to read and the language is close to real life. 
In 2001, Google was a successful three-year-old internet start-up, but was already preparing to compete with Microsoft.  Google is different to other places, even though Schmidt was the CEO, he had to share an office. The company was growing in size and in 2002, Jonathan Rosenberg joined as Head of Products. The company's early principles consisted of focusing on the user hiring as many great software engineers as they could and give those engineers freedom. Google has managed with informal meetings of small engineering teams. In 2003, Schmidt and Rosenberg were charged with creating a business plan to compete with Microsoft, which involved learning a new way of managing these smart creatives. Google engineers are allowed more creativity and less structure than Microsoft engineers. Google has been learning and documenting these new management methods ever since. "How Google Works" has changed my ideas about business and has helped me on learning knowledge in different problems from tech companies which consist of culture, strategy, talent, innovation, communication and decision.  I have received a great education of management from the book and can apply it to my real life. "How Google Works" is not boring like other non-fiction books. The book covered the information we need, and represented what make an effective business.  
The 304-page book was not too hard to read. I was impressed by the interesting interpretation and knowledge from the beginning 'til the end. Schmidt and Jonathan have so much experience to share with everybody about Google and how it's great now. I recommend this book to anyone who hopes to learn computer science, coding or how to manage effectively. Overall, I would give this book a 4.5 out of 5 paws.