How to Work Your Glutes Off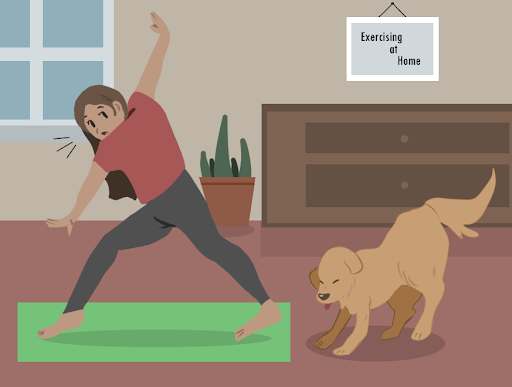 Since the New Year's start, one of the essential goals for many of us is exercising or losing weight. But it is not easy with the current situation where so many of us are still at home and the gyms are still closed, or we don't have time to work out. No worries. You can start working out from home: as our own fitness expert West High PE Teacher Casey Wichman says, "The best exercises to do at home are exercises that get our full body moving and our heart rates up." It is much safer than heading to a gym or workout studio, even if they're up and running. Working out at home is not easy if you are used to going to a class for your High-Intensity Interval Training (HIIT) or Yoga. It takes some space and a lot of intrinsic motivation to stick to a home workout plan. Still, in light of the COVID-19 outbreak, many fitness experts, gyms, apps and studios are doing their part to help us stay in shape. Establishing a workout routine could most importantly lower anxiety related to coping with the pandemic. Wichman says, "The purpose of a home exercise program would simply be convenience. Especially in times like this with COVID, it is difficult to go anywhere to train. Being physically active every day has so many benefits that go beyond physical appearance. These benefits include increased brain activity, more positive moods, more stable appetite and metabolism and a more regulated blood pressure." These are some ways to keep you in shape and healthy.  
Free home workout videos 

 
 Wichman included, "You can make a workout plan at home by researching different exercises on Google, darebee.com," or even YouTube. The fastest way to start an at-home workout is by watching YouTube videos for 25-45 minutes. They often offer subscriptions or membership, but many providers are offering for free. It is easy to workout at any time you want, or it could be anywhere. They include yoga, boxing, high-intensity interval training, plyometrics, Pilates and barre exercises.  
Free apps on your App

S

tore 

 
If you look at your app store, you will find many fantastic fitness apps for free. They are offering workout programs for women, men and beginners at a limited time. You can do your workout routine while listening to your favorite music.  
Amazon prime video 
If you have an Amazon Prime membership, they are offering workout videos, including 21-Day Transformation, Cardio HIIT with weights workout, Studio S Live Bootcamp with Sara Moreland and so much more. Just search "Fitness"; you may access all these videos and start your workout today.   
 Wichman continued, "My best advice would be to do something you enjoy (walking, biking, sport activities such as football, basketball, baseball, dance or anything else of that nature). That way you can be consistent with it every day and you will be more motivated to be physically active." Remember your health is important than anything else. Health is wealth – try to take some time for yourselves, and be healthy. So, have fun working out and love the way you feel.