Anime Review: Haikyuu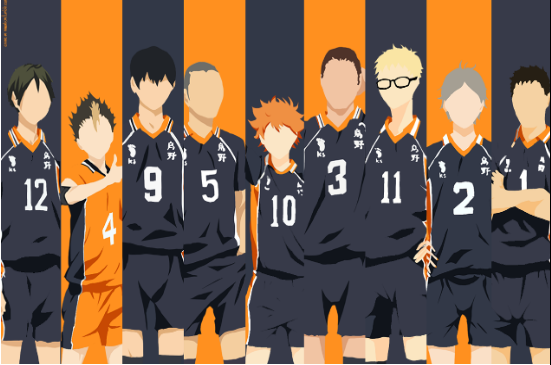 During this 2020 quarantine, it wasn't uncommon for people to pick up a hobby or to catch up on a series they pushed off to the side due to time. This quarantine, I took the time out to reinstall Netflix with an implanted goal to increase my anime watched list. Not only was I upset I haven't watched anything new since December of 2019, but I was also curious as to what my friends were talking about when they laughed about the show's references. One day after asking for the millionth time what the reference meant, my friend asked with annoyance, "Why haven't you watched Haikyuu yet?"  
Haikyuu is a "slice-of life" anime based on the Japanese Magazine issues of Shonen Jump. This is a sports anime featuring the main character Shoyo Hinata, on his rise to be the Spiker for his high school, Karasuno High. In the beginning of the first season, it shows how exactly Hinata got his inspiration to be a volleyball player, even with his height disadvantage. Standing at a whopping 5'4, Hinata gets his inspiration to become a spiker by watching a certain player live in action on TV. Tenma Udai, also known as the "Tiny Giant," is around the same height as Hinata. But his skills range from being a spiker with an amazing athletic ability to jump VERY high. So, with the power within his jump, he is able to compensate for his lack of height. Not to mention, he's a powerhouse when it comes to stamina.  
Hinata, wide eyed and excited, promised himself from that day forward as he stood on his rusty bike, he was going to follow in his footsteps and becomes the next Tiny Giant.  
He decides during his last years in middle school, if he wants to become just like the Tiny Giant, he must follow a similar path as him. So, he decides that he is going to be like Tenma he must apply for Karasuno High, the school in which the Tiny Giant attended and began his journey. Once he is accepted, there he reunites with his middle school arch nemesis, Kageyama, who he first met in a middle school volleyball match. They see each other at the same high school eager to join the team, and they both learn that they are on the same path to succeed in their volleyball careers. With their polar opposite personalities, they are then forced to work together and help Karasuno rise to Nationals.    
Throughout the show there are many introductions to the interesting characters. Not to mention the reveals of the opposing teams and the occasional laughter between the back and forth between Hinata and his fellow teammates. Names such as Daichi, Sugawara, Yamaguchi, Tsukishima and Nishinoya will become distinguishable in almost 5 episodes… I promise. As soon as the as the "edge of your seats" scenes began to unfold, you will be inching to get to know them and pray after this episode if there is still another season to follow.   
One of the reasons this anime does so well within viewers and fans is because of the exhilarating scenes and the interesting characters. With moments such as Hinata hitting his first spike, to catching his first receive, Hinata has improved along the way from many of which were by the help by his own teammates and the endless strive to be just like the Tiny Giant.  With his newfound companion, Kageyama surprisingly being an excellent Setter for him, they both are able to play out their best abilities by working together and shocking the opposing team every time.  
Tik-Tok, ranging from its different topics, has many anime recommendations that were extremely popular, like Haikyuu. Within Tik- Tok, it is also common for the fans to make posts about the show and their own comedic perceptions of the characters. It also gives them the opportunity to discuss with one another about the opposing teams' personalities, which rallied more fans to connect online and new viewers like me to check it out.  
This is a four-season show filled with episodes that will keep you at the edge of your seat and cheer on Karasuno in excitement. I would definitely give this anime 5/5 paws for the excellent story line, lovely art style and animation talent. Plus, you can't go wrong with the nice sub and dub voice acting so you can enjoy the best of both worlds.   
Ranging from Hulu, Netflix, or even anime-based apps such as  FUNimation or Crunchyroll, you can't miss the hype red head when you see him on your screen. Trust me, it's a fun stimulating ride.