Celebrity Boxing Matches are on the Come Up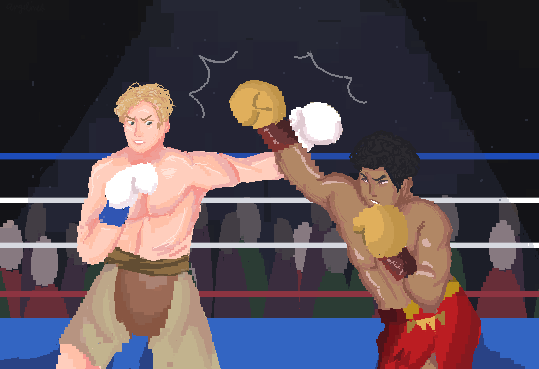 What comes to mind when you first think of famous boxers? You're possibly thinking Muhammad Ali. Or Manny Pacquiao. Or Rocky. Either way, you're in the same boat as most Americans. But if you're like me, the idea of Jake and Logan Paul stepping into the ring calling themselves "professional boxers" shakes your mental image of a boxer. 
If you don't know, Jake Paul and Logan Paul are both YouTubers with extensive numbers of subscribers (Jake with 20.3 million subscribers and Logan with 22.7 million subscribers). Both are considered controversial on the YouTube platform for senseless antics and unnecessary drama. As the years went on, the Paul brothers have started to turn a new leaf in their life: boxing. Starting in 2018, Logan challenged another YouTuber from Britain, Olajide Olayinka Williams "JJ" Olatunji, also known as KSI, to a boxing match. Although this fight seemed like another publicity stunt, the fight took the internet by storm, registering over 1,000,000 pay-per-view buys: the largest non-professional boxing match of all time.  
Besides Logan's successes, his brother as of now is 2-0 with two T.K.O (total knock outs). His biggest debut was against former basketball player, Nate Robinson, on November 28. The fight ended at 1:24 in the second round. 
Interestingly enough, the Paul brothers aren't the only celebrities stepping into the ring. Former NBA player, Lamar Odom, will be fighting with singer Aaron Carter on June 12. As of recent, American TV personae, Natalie Nunn and Love & Hip Hop Atlanta's, Tommie Lee will be fighting on a future date. 
As mentioned before, none of these individuals come to mind. So why are all these celebrities suddenly breaking in their gloves?   
The main reason for these celebrity boxing matches is that boxing as a sport has been on the decline.  According to bleacherreport.com, "Boxing has probably been in a decline for more than 50 years." In an interview with BoxingScene.com, former boxer, Mike Tyson shared how the new fighters lacked a "big personality."   
"I was always in trouble. I was always here and there so that's why I was always in the papers and that's why it's different. These are really straight gentlemen guys." 
Tyson serves a point as famous boxers like Muhammad Ali became household names and, in Ali's case, were activists during the Civil Rights Movement. 
During the pandemic, the viewership of boxing has declined 48% according to SportiCo.com. After 45 years, HBO in 2018 said it'd no longer be broadcasting boxing because of budget cuts, low ratings and fighters signing with other platforms. 
Like anything starting to lose its mojo, it's got to get it's groove back. And what better way to do that than to see which celebrities can throw hands? From USA Today, celebrity boxing matches are "gaining momentum" and are doing better than real boxing matches. As of the Mike Tyson vs. Roy Jones Jr. boxing match on November 28 earned a whopping 1.6 million pay-per-view buys. This is one of the top ten combat sports events. As Tyson and Jones are already big names on their own, the Co-Main Event with Jake Paul vs. Nate Robinson brought its own viewers. Tyson has even credited both Paul brothers for bringing boxing "alive." 
Furthermore, this idea of celebrity boxing actually isn't new. Rewinding back to January 17, 1994, is the first recorded celebrity boxing match between TV star Danny Bonaduce and singer and former teen idol Donny Osmond. Both swung at each other to win for their beloved charity they would donate to.  Surprisingly, however, the reaction to the fight was negative. Such as one Sport's Illustrated article explained, "… nobody rabbit-punches, hits on the break, sticks a thumb in the eye… for charity." But that didn't stop Fox from creating the one season show, "Celebrity Boxing" in 2002. Shockingly, the first show featured stars Tonya Harding and Paula Jones duking it out with Harding winning after three rounds. With no surprise, this brought in 15 million viewers. Regardless of the viewers, the show didn't last long with only two aired episodes and was listed in TV Guide as one of the 50 Worst TV Shows of All Time in 2002. 
So, what makes today's celebrity boxing matches different? Clout. If you look as early as 2017, the Floyd Mayweather vs. Connor McGregor fight (also known as "The Money Fight" or "The Biggest Fight in Combat Sports History") set the stage for today's current boxing matches. The undefeated eleven-time five-division boxing world champion Floyd Mayweather Jr. fighting against two-division mixed martial arts world champion (at the time) UFC Lightweight Champion Connor McGregor is bound to draw attention. This shocked McGregor fans as he had no current professional boxing experience. However, on August 26, 2017, unexpectedly, McGregor was able to hold out for 10 rounds until he dropped from a TKO. But this fight brought in a weighty amount of 5.17 million pay-per-views; the second highest number of pay-per-views in boxing history. 
A year after this historic fight followed the Logan Paul vs. KSI fight. In 2019, however, the rematch of Logan Paul and KSI captured a bigger platform at the Staples Center in Los Angeles. Gathering 1.2 million pay-per-views made these amateurs first professional fight another huge success. Fast forwarding to the Mike Tyson vs. Roy Jones Jr. Fight, featuring Jake Paul vs. Nate Robinson is just the beginning. 
You're probably wondering, what's it all mean for the declining sport of boxing? For now we'll have to wait and see. For right now, celebrity boxing is taking professional boxing by storm.  And if you think the Paul brothers are done, you'd be highly mistaken. Logan Paul will be taking on big-name Mayweather (yea, I couldn't believe it either) on a future date. Jake Paul is set to fight with former UFC fighter Ben Askren on March 29. Even though some professional boxers, such as Canelo Alvarez, accuse this new form of boxing as "disrespecting" the sport, the pay-per-views speak louder than the criticisms, especially with a sport slowly fading away. 
With more celebrities taking the ring, it makes you wonder who else will be taking on boxing?  Will Zac Efron decide to take on Michael B. Jordan? Will Justin Bieber duke it out with Chris Brown? Whichever big-name celebrity decides to join professional boxing, expect their large following to tune in.