BTS: Are the Newer Songs Good as the Old Music?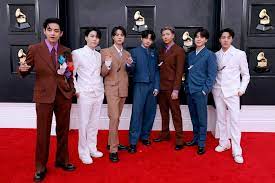 Whether you're a fan or not, you've probably heard of BTS. The South Korean boy band took over the American music industry when their first fully English song, "Dynamite", reached the top spot on the Billboard Top 100 chart in September 2020. They became the first Korean Pop act to do so. They also made history as the first K-Pop act to be nominated for a Grammy. Ever since then, they've faced nothing but success.   
"Dynamite" was many fans' favorite summer song. The upbeat music and lyrics can put anyone in a good mood when they're feeling down. Or if you'd like to hear a variant of the song, there are nine official remixes playable on most music streaming services. Every release since "Dynamite" has had almost the same success.  
May 2021 marked when they returned to English singles. The song, "Butter", had almost the same success as "Dynamite". The lyrics centered around the idea that they are "smooth like butter" and "will melt your heart into two" when you see them. It became so popular that Megan Thee Stallion was featured on a remix of the track.   
"Permission To Dance" was the third song of the growing English discography. It was released in July 2021 to celebrate the change in energy as we recover from the pandemic. The music video was filled with positive attitudes from people around the world and received a lot of online praise.  
How does the new music compare to the old style? The older songs were filled with far more meaningful raps and more complex choreography. They tackled the topics of depression and healing ("Blue & Gray", "Black Swan", "Spring Day"), along with sending messages to those who mocked them and their genre ("Mic Drop", "Idol", "Cypher pt. 4"). There are plenty of tracks dedicated to their fans, aka ARMY, and their love for them ("Magic Shop", "Answer: Love Myself", "Mikrokosmos"). Fans enjoyed these, despite the obstacles of listening to music in a foreign language. They also have the types of songs you'd expect from a boy band, ("Boy With Luv", "I Need U", "Euphoria" and "Fake Love") which center around the ideas of love. The new English tracks simply can't compare to these essentials.   
It feels as if not all members can properly show off their skills in these newer releases. The "Rap Line" (which consists of members RM, J-hope, and SUGA) are given significantly fewer lines than the vocalists. Instead, they are given one or two lines in a verse or a pre-chorus. The "Vocal Line" (members Jin, V, Jimin, and Jung Kook) are given the verses, choruses and bridges in all three songs. However, the vocalists do have an advantage. If you watch any interviews with James Corden, Jimmy Fallon or Zach Sang, you can see that the vocalists (and RM, the aforementioned English-speaking member) are much farther in their English studies in both understanding and speaking skills. The six non-fluent members are still learning, and ARMY will see more improvement in the future.  
There isn't much more to criticize about their English releases. "Dynamite", "Butter", and "Permission to Dance" were not bad songs, despite having areas that they could improve in. I typically lean for the Korean lyrics and older music, but a change in style is not always a terrible thing.