Messi vs Ronaldo?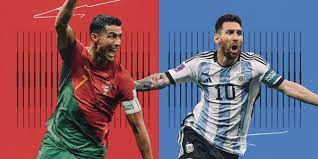 The debate over who is the best player in the world. Without a doubt the argument lies between Messi and Ronaldo. The two players have shared the stage for almost two decades in national, regional and international competitions. Over the titles it is still a very huge debate.
Ronaldo has scored 819 goals and 266 assists throughout his career. This is the highest number of goals to ever be recorded. On the other hand, Messi has scored 798 goals with 388 assists. Messi has the greatest number of assists in the world. It clearly shows that Ronaldo and Messi have different play styles. Messi is a finisher and a playmaker while Ronaldo is a pure striker.
Messi has 41 trophies under his belt while Ronaldo has 34 titles. Ronaldo is a five-time Champions League winner while Messi only has four. Ronaldo has only won the LaLiga title once while Messi has won it TEN TIMES!
The Ballon d'Or is a trophy given to the best player of the year. Messi is a seven-time winner running up for the eighth one this year while Ronaldo has won five. The golden shoe is a trophy given to the individual with the greatest number of goals at the time of the award. Messi had six while Ronaldo had 4.
The 2022 World Cup was in Qatar and the winners were Argentina. Messi came second with the greatest number of goals but, without a doubt he was the most dominant player in the tournament.
According to Pep Guardiola, a world class manager for Manchester City in the Premier League, "He knows how to play, score and make the other players play. He is always there." In other words, he is inferring that Messi can score and can create a play. Ronaldo is a pure striker meant to score.
The best defender named in 2019/2020 league. When asked who was the hardest player to defend? His reply was "Lionel Messi". Due to his size, incredible pace, and vision he had made mockery of world class players.
Messi has a World Cup, seven Ballon O'dors, four Champions Leagues under his name. Ronaldo does not have a World Cup. Ronaldo has one more Champions League than Messi. Also, Messi has a higher goal and assist per game ratio than Ronaldo.
The statistics say that Messi has a more complete career than Ronaldo. Currently, Messi is playing in PSG and is competing in the Champions League while Ronaldo is competing in Qatar and has been knocked out of the league as well.