Vegan, vegetarian and pescatarian recipes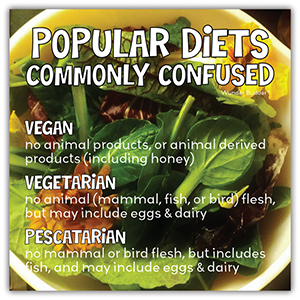 For breakfast, if you are a vegetarian, I suggest you try this recipe for smashed avocado toast and veggies:
Prep Time: 5 Minutes
Cook Time: 10 Minutes
Total Time: 15 Minutes
Author: Simple Green Moms
Recipe type: Vegetarian
Serves: 2 servings
Ingredients:
2 slices Ezekiel bread
2 eggs (fried)
1 avocado
½ purple onion, thinly sliced
½ cup thinly sliced bell peppers (any color works)
4 spears fresh asparagus (sliced in half)
1 tablespoon coconut oil
½ lime, juice
sea salt + black pepper
Instructions:
1-Melt coconut oil in a skillet over medium-high heat.
2-Add onion, pepper, asparagus, and seasonings to skillet. Sauté vegetables for about 5 minutes. Add lime juice and sauté another minute or two.
3-Toast bread then top with smashed avocado. Layer on the vegetables and fried egg then serve immediately.
If you are vegan, I suggest you try this recipe:
Golden Quinoa Salad with Radish, Dill & Avocado
Serves 4 to 6 as a side dish
Ingredients:
1 cup golden quinoa
1 3/4 cups vegetable broth
8 small red radishes, well-cleaned and tops removed
1/3 seedless English cucumber, about 1/4 pound, unpeeled
1 large shallot
2/3 lightly filled cup dill fronds, without stems
1/2 lemon, zested and juiced, about 1 1/2 tablespoons
3 tablespoons extra-virgin olive oil
1/2 tablespoon balsamic vinegar
1/8 teaspoon liquid smoke*
1/2 cup sliced raw almonds
1/2 cup pitted dates, roughly chopped
Flaky sea salt and freshly ground black pepper
1 ripe avocado, to serve
Instructions:
1-Rinse the quinoa for 2 to 3 minutes in a fine mesh strainer, rubbing vigorously. Drain. Heat a 2-quart saucepan over medium-high heat and add a drizzle of olive oil. When the oil is hot, add the quinoa and cook, stirring, for 1 minute. Pour in the broth, bring to a boil, cover and turn the heat down to low. Cook for 15 minutes. Turn off heat and let sit, covered, for 5 minutes.
2-Line a large baking sheet with parchment and spread the cooked quinoa over it in an even layer. Let cool while preparing the vegetables.
3-Dice the radishes finely— about 1/4-inch to a side. Do the same with the cucumber. Finely dice the shallot. Finely chop the dill fronds. Toss with the quinoa in a large bowl.
4-Zest the lemon right into the bowl and fold in the zest. Juice the lemon half and whisk the juice together with the olive oil, balsamic vinegar and liquid smoke until emulsified and thick. Toss this with the quinoa.
5-Fold in the almonds, chopped dates and (optional) Parmesan. Taste and season to taste with salt and pepper. When ready to serve, top with chopped avocado.
*Note: 1 tablespoon smoked olive oil, such as The Smoked Olive's Sonoma oil, can be substituted for the liquid smoke and 1 tablespoon regular olive oil.
If you are a pescatarian and you want to try something new for dinner then try this recipe tonight:
Spaghetti Aglio e Olio with Dungeness Crab
Servings: 2
Ingredients:
kosher salt, divided
5 ounces dried spaghetti noodles, or other long strand pasta
3 tablespoons quality extra virgin olive oil
1 heaping tablespoon minced garlic
¼ teaspoon red pepper flakes, more to garnish
½ tablespoon grated parmesan or pecorino cheese
4-5 ounces cooked Dungeness crab meat
1 teaspoon fresh lemon zest
1 teaspoon fresh chopped chives
white truffle oil to finish
Instructions:
1-Bring a pot of salted water to boil. Add the spaghetti noodles and boil for 8-9 minutes or until al dente. Drain the pasta and reserve ¼ cup of the starch water that the pasta was cooked in.
2-While the pasta boils, heat the olive oil over medium-low heat in a large skillet. Add the garlic and cook for 2-3 minutes to infuse the oil. Swirl the skillet often to ensure that the garlic does not burn. Add the red pepper flakes and infuse for another minute. Carefully pour in the reserved starchy pasta water, turn the heat to medium-high and bring it to a boil. Whisk the items together and then toss in the pasta. Stir and toss for about a minute and sprinkle in the cheese and 2-3 generous pinches of salt.
3-Remove the skillet from the heat and gently fold in the crab. Plate the pasta between two dishes. Sprinkle the tops of each serving with lemon zest, chives and drizzle with white truffle oil. If you do not have truffle oil, drizzle with some additional quality extra virgin olive oil.
Even if you aren't vegan, vegetarian or pescatarian, you can still try one or all of these recipes. Enjoy!