Falling into fashion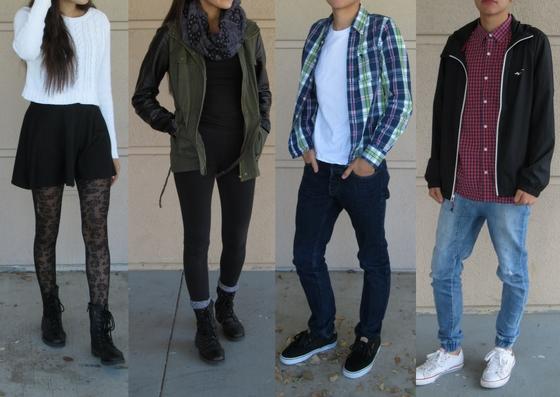 The leaves are changing, the Starbucks pumpkin spice lattes are back and now you're running late for school. Fall is upon us, meaning it's that time of the year when we're getting lazy and all we want to wear are sweatpants and hoodies. Here are a few outfits that are cute, comfy and suitable for the bipolar weather:
Girls:
On warmer days, a simple skirt or dress can easily give off the impression that you tried to look nice. It sends a girly vibe that you can either dress up or down, depending on how you accessorize. Throwing on a knit sweater will keep you warm in the mornings, but won't ruin the girly vibe.
Skater skirt or dress
Sheer tights or high knee socks
White knit sweater
Black combat boots
On colder days, you can throw on the popular olive green parka over a pair of leggings, any solid colored top and an infinity scarf. The boots socks add a knit texture that makes the entire outfit feel cozier, while also keeping your feet warm. If you want to channel your inner 90's grunge, try wearing a berry lip product or any other dark matte lipstick.
Olive green parka
Black leggings
Boot socks
Black combat boots
Infinity scarf
Boys:
On partly cloudy days, any plaid flannel will keep you warm in that cold air, without having you sweat all day. Almost every color matches with dark washed jeans, so you can never go wrong with that color scheme. A white T-shirt and a pair of Vans give the outfit a casual look, while emphasizing the flannel with the use of solid colors against one pattern.
Plaid flannel
Dark washed jeans
White T-shirt
Vans
On windy days, another popular jacket is the simple black windbreaker that has a lightweight feel, but keeps you warm without wearing too many layers. A pair of denim joggers will keep you comfortable, but stylish because of the denim pattern and loose fitting. It's like fashionable sweatpants!
Windbreaker
Button up shirt
Denim joggers
White converse
You can also hide that greasy, bad hair day with a beanie for any of the four outfits above.