Elevate your palette with these healthy recipes
Winter is a season filled with joy and togetherness, but it also is a season of food. With all of the holidays it is hard to cut back on the food and you end up devouring more than you promised yourself. After the holidays are over, it is back to the gym and cutting your cravings. Instead of depriving yourself of delicious foods, why not try these easy and healthy recipes?
Avocado Toast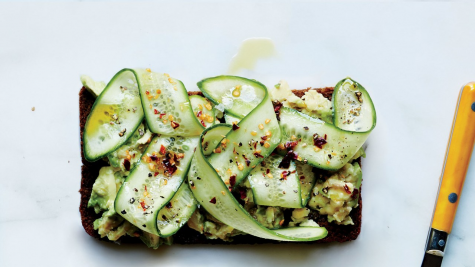 Ingredients
Crushed red pepper flakes
Salt and pepper
Tahini
Lime juice
Olive oil
Cucumber
Avocado
Sourdough bread
Preparation (10 minutes)
Cut the cucumber into thin slices and season them with salt, pepper, crushed red pepper flakes and lime juice.
Smash the avocado and spread it onto the sourdough bread (toasted or not)
Sprinkle in some tahini and top it with the cucumber slices and olive oil
Veggie Lo Mein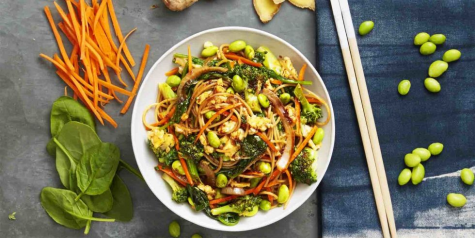 Ingredients
2 tsp. fresh ginger
¼ cup low-sodium soy sauce
2 tbsp. toasted sesame oil
2 tbsp. balsamic vinegar
4 large eggs
10 oz. frozen chopped broccoli
1 ½ cup frozen shelled edamame
2 cup shredded carrots
10 oz. baby spinach
1 large onion
8 oz. whole-grain spaghetti
Preparation (20 minutes)
Slice the large onion into thin slices and set it aside.
Peel and grate the ginger and set it aside as well.
In a large pot of hot water boil the spaghetti, following the directions written on the label.
Before draining the spaghetti add the broccoli, shelled edamame, carrots and baby spinach.
Stir the pot with the new ingredients and drain it into another pot, setting it aside for later.
In the old pot, heat the sesame oil on medium and cook the sliced onions for 5 minutes.
Add the low-sodium soy sauce, balsamic vinegar and the ginger. Cook for 1 minute.
In a separate bowl, beat the eggs and add them to the pot. Cook for 2 minutes without stirring it with the rest of the ingredients.
Add the noodles to the pot and cook for 2 minutes occasionally stirring it until it is heated thoroughly.
https://www.goodhousekeeping.com/
Quinoa Chicken Parmesan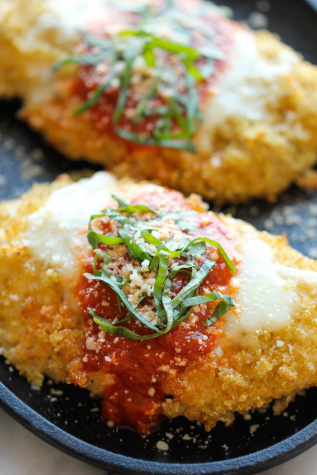 Ingredients
1 cup quinoa
1 tbsp. Italian seasoning
½ cup all-purpose flour
2 large eggs, beaten
1/4 cup grated Parmesan cheese
1/2 cup shredded mozzarella cheese
1 cup marinara sauce
1/4 cup basil leaves,
2 skinless chicken breasts, cut into preferable size
Salt and black pepper, to taste
Preparation (45 minutes)
Preheat the oven to 400 degrees
Cook the quinoa as directed in the package and mix in the Italian seasoning.
Add salt and pepper to the pieces of chicken.
Put the flour, eggs and quinoa into three separate bowls.
Dip the pieces of chicken into the separate bowls of flour, egg and quinoa thoroughly.
Lightly coat a baking sheet with oil and place the pieces of chicken on top.
Bake it for 20 to 25 minutes or until golden brown.
Top it with the marinara and the cheese and place it into the oven again until the cheese melts.
Garnish with basil