Girls Soccer Takes on New Goals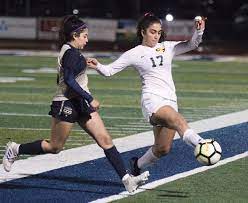 Here at West, our girls soccer team is doing well this year.  Just wanted to show how good their team is. We interviewed Coach (Behnam), and this is what he had to say about the team.
"Hi this is Scott Behnam; I am the girls' varsity coach. We play Tuesdays and Thursdays when the league start's, we play at the stadium and our games start around 6:30 for varsity and JV starts at 4:30." Their goal this year is to try to be league champions, and they believe that they can win the league this year.
Their achievement this year is trying to win every game.
"We have a bunch of good freshmen this year and we have bunch of good seniors as well. We want to make them leave with a good win."
Behnam truly believes that they will make the playoffs and how they are going to execute this is by practicing a lot for it. All the girls had been motivated.
Behnam said, "the girls have been getting along with each other and he loves the bond between each other."
"Our varsity captains are Katherine Dubie and Joesphine Gomez. They are good captains, and the JV captains are Rihanna and Emma."
Behnam believes that the girls' soccer team can win the league this year because of how supportive their coach is and how motivated they are to win. Their coach supports them each day, and they have been practicing a lot this year. Behnam feels like they can win the league, and he seems proud of them. The chemistry between them is pure and with this team she knows they can win this year.