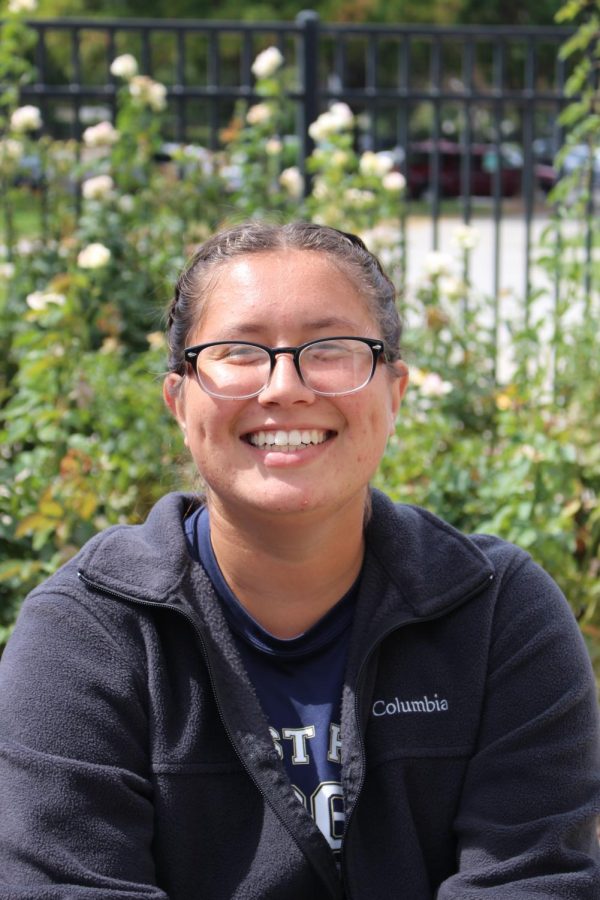 Hear Ye, Hear Ye, senior Hannah Dominguez is the treasurer of club Project Smile. Dominguez also does Cross Country for the third year and she loves it. Her favorite class taken was Human Physiology with Ms. Ceja her junior year because she enjoyed learning about the human body. Hannah is most fond of Ms. Duff because of how well she connects with her students also as well as her humor Ms. Duff also provides a positive environment. Hannah is most excited to share her opinions and bring her ideas into journalism. Dominguez looks forward to expanding her writing skills in journalism.
Hannah Dominguez was born in Walnut, Creek CA. Her education plan after graduating from high school is most definitely college, but she is still unsure of where she plans to go. Hannah loves to watch movies; some favorites of hers are E.T. & The Good Dinosaur, She believes E.T. is very influential to her. She also loves the colors gray and blue. Hannah says she loves gray because it goes with anything. When Hannah isn't at school or doing cross country, she is working at Cold Stone or hanging with her friends. She loves to watch YouTube and go on picnics at the park.
She enjoys sweet snacks over salty and loves to bargain for food. She would love to travel and explore around Africa one day because of all the rich animals. A few of her favorite animals are capybaras, rhinos and whales. One of her many favorite words are "scarce." Dominguez describes herself as independent and responsible. Dominguez is ready for new challenges and a great last year of high school.
Hannah Dominguez, Staff Reporter
Apr 16, 2019

Hannah D.'s Senior Reflection

(Story)

Apr 16, 2019

Male athlete of the issue

(Story)

Apr 16, 2019

Female athlete of issue

(Story)

Mar 15, 2019

Recent measles outbreak leads to controversy on vaccines

(Story)

Feb 06, 2019

West's first league win takes place against Saint Mary's

(Story)

Feb 06, 2019

Music Review: i am > i was

(Story)

Nov 16, 2018

Male Athlete of the Issue

(Story)

Nov 16, 2018

Feasting in the Fall

(Story)

Oct 11, 2018

Robots are the future

(Story)