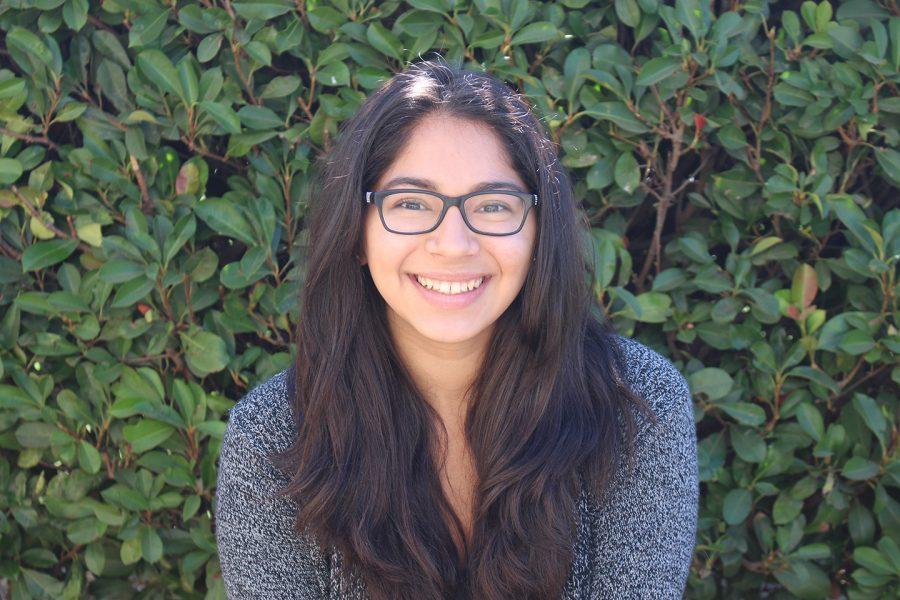 Senior, softball player and soon to be lawyer, Jocelyn Del Toro Preciado joined Journalism for her passion for writing.
Jocelyn was born in Hayward, California to a loving and practical family, playing jokes and still remaining close with one another. She wishes to remain close to her family.Not only is she close to her family, her friends seem to think she's a very nice and loving girl. We can't forget her dog that she loves to take on walks and play with when she is upset or stressed. Even though she's close with her friends and family, that does not mean she does not have goals for and on her own.
In ten years, Jocelyn hopes to be living in Los Angeles, California or New York and being a partner at a law firm. Now, being a lawyer must seem like hard work, but for Jocelyn, she seems to love to argue and she can probably do it for a living. Maybe, that's why she loves history and being in Ms. Escalante's class.
In history, there are so many different points of views to how history really happened, we will never truly know unless we were there. Speaking of which, nobody will know how Jocelyn works in Mrs. Escalante's class, except for Ms. Escalante and Jocelyn themselves, but Ms. Escalante will never put her to sleep.
Jocelyn Preciado, Staff Reporter
Apr 28, 2017

Goodbye Wolf Pack, hello Grizzlies

(Story)

Apr 28, 2017

Senior reflection

(Story)

Mar 14, 2017
Feb 01, 2017
Jan 31, 2017
Jan 31, 2017

Lights, Camera, Lip Sync!

(Story/Media)

Jan 30, 2017

West vs. Tracy: Supporting our girls at Slam Jam

(Media)

Jan 26, 2017

To love, or not to love: Cupid's ball is underway

(Media)

Dec 06, 2016

What you need to know before the Talent Show

(Media)

Dec 06, 2016

Running late again

(Story/Media)

Nov 30, 2016
Nov 29, 2016

Beauty, beauty, beauty rockin' everywhere!

(Media)

Nov 01, 2016

FFA Fall Festival Fun

(Story)

Oct 24, 2016
Oct 21, 2016

West High's Student AP Art Gallery

(Story/Media)

Oct 19, 2016

3 seats, 5 candidates: TUSD board member candidates vie over leadership roles in the district in upcoming election

(Media)

Oct 19, 2016

Just keep treading

(Media)

Oct 18, 2016

The Fight for Freedom: Fojo's Story

(Media)

Oct 18, 2016

Banned Books Week

(Media)

Sep 15, 2016
Sep 13, 2016
Sep 13, 2016
Sep 13, 2016
Sep 13, 2016

Ashley Christopher

(Media)

Sep 13, 2016
Sep 13, 2016
Sep 02, 2016
Sep 01, 2016

New policies, new worries

(Media)

Aug 30, 2016

New ROTC class is taking flight

(Media)

May 11, 2016

Where do seniors want to settle down?

(Story)

Apr 07, 2016

A place to learn or a place to fight?

(Media)

Mar 24, 2016

Are we a safe campus?

(Media)

Mar 24, 2016

An open letter to Donald Trump

(Story)

Mar 23, 2016

Softball article

(Story/Media)

Feb 16, 2016

Lips are moving

(Story/Media)

Feb 11, 2016

Stirring up new looks: A Home Ec room is made

(Media)

Jan 06, 2016

The 'Pack's Running Back

(Story/Media)

Dec 10, 2015

Coming together

(Story/Media)

Oct 19, 2015

From cleaning toilets to cleaning up the community

(Story)

Oct 07, 2015
Oct 07, 2015
Oct 06, 2015
Oct 05, 2015
Oct 05, 2015
Oct 05, 2015
Oct 05, 2015
Oct 02, 2015